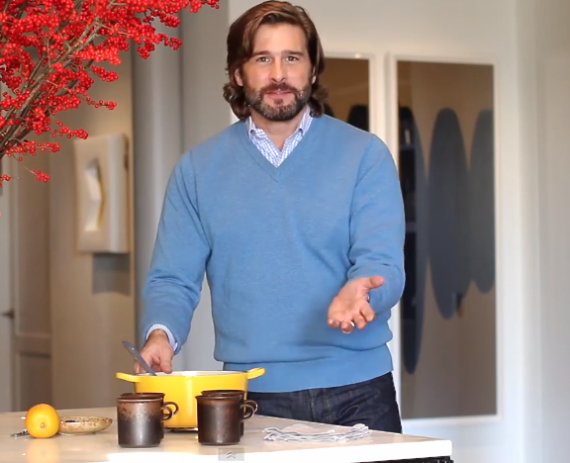 Here's a video about making (and enjoying) one of my favorite winter drinks –Glogg, a traditional Scandinavian warm punch made of spiced wine, port and Aquavit (also spelled Akvavit).  The flavor is fruity and spicy and delicious –but not too sweet, and I don't think any sleet soaked bad mood can withstand it's happy aroma.
The drink is traditionally made with Aquavit, a fiery Scandinavian spirit with a pleasant Caraway flavor that blends beautifully with the other spices.  If you don't have Aquavit, Vodka or brandy are good substitutes.
Skaal!

Recipe
Ingredients
About 1 cup Aquavit
1/2 cup raisins
1/2 cup white sugar
2 sticks cinnamon
4 whole cloves
six whole cardamom pods (lightly crushed)
peeled zest of 1 orange
1 750ml bottle of burgundy or pinot noir wine
1 cup ruby Port
Instructions
1.  Soak the raisins in the Aquavit for about 30 minutes
2.  In a large heavy pot over high heat, combine the sugar and 1 cup of water.  Stir until the sugar is completely dissolved.
3.  Lower the heat to medium and add the spices and orange.  Bring to the boil, but don't let the drink boil again after this step.
4.  Add the Aquavit-raisin mixture, the wine and the port.  Stir and simmer very gently until you like the flavor.  (I find that about 15-20 minutes works well.) Sweeten with a bit of sugar if you like.
5.  Strain the punch (salvaging the raisins) and return it to the warm pot.  Serve immediately garnished with the raisins and a strip of orange zest, or keep at room temperature for up to a day to reheat and serve later.

{ 1 comment }