Preserved lemon is a complex, almost exotic flavor that really needs a better name.  Calling this condiment "preserved lemon" is sort of like calling a nice Bordeaux "preserved grape juice:" it's technically accurate, but it misses the point.  Forget candied lemon peel and its sticky sweet fruitcake friends.  Originating in Morocco, preserved lemon is a mysterious, savory, spicy, almost winey flavor that gives simple dishes, such as braised chicken or lamb or grilled fish, extraordinary flavor and aroma.  It's very difficult to find in stores (although I've got a reliable source –see below), and often expensive.  On the other hand, it's easy and cheap to make from ingredients most of us have on hand, and the finished product will be better than the store-bought version.
I first made preserved lemon because of the coincidence of two happy events:  the purchase of my first home and my first trip to Morocco.  I had walked by the run-down Victorian in San Francisco countless times without really seeing it until my vision was sharpened by my desire to buy a home and my tight budget.  On paper, it wasn't promising:  no central heat, no indoor toilet (not kidding), a sketchy electrical system and interior finishes that were probably looking a little shabby by the end of the Eisenhower administration.  But its generously proportioned rooms were filled with original detail and flooded with sunshine, and, best of all, I could afford it.  I was definitely in like with the house until I walked into the back garden.  There, in a tangle of overgrown roses, was a huge, fragrant, thriving Meyer lemon tree.  It was love.  I closed in 30 days.
A few months later I took a break from juggling work with the dust and anxiety of remodeling and took a trip to Morocco with friends from Paris.  For several days we stayed at a guesthouse owned by a friend in the old Medina of Marrakech, and were well fed by its wonderful cook.  In braised chicken and lamb dishes, and in salads and relishes, I experienced an entirely new flavor –something spicy, subtly fruity and vaguely lemony, but without the acidic brightness of lemons.  Our host explained that this flavor was preserved lemon, and the cook took me to the kitchen to show me his great glass jar full of golden lemons suspended in brine and spices.  A few (seemingly endless) months later, my new kitchen was completed just as a huge crop of lemons ripened on my tree.  I celebrated by making my first batch of preserved lemons, and have kept a jar on hand ever since.
Below is the basic recipe for preserved lemon, and look to following posts for recipes that use them.  Invest half an hour preparing this and you'll reap big dividends delighting your friends and confounding your frenemies with the exotic, enigmatic flavor of preserved lemon.
Recipe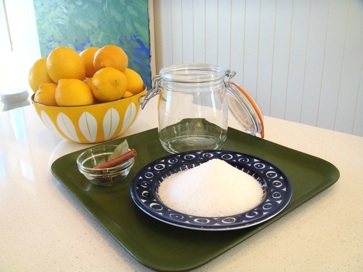 Equipment:  a sturdy re-sealable glass jar
Ingredients
lemons (Meyer or regular  –this batch used about 10, three for juice)
1/2 cup kosher salt
3 cloves
5 peppercorns
1 bay leaf
1 cinnamon stick
1 teaspoon coriander seed
Any and all of the spices are optional, but, in my view, they make the flavor much more interesting, so add them if you have them on hand.
Instructions
1.  Wash the jar and the lemons as thoroughly as possible.
2.  Cover the bottom of the jar with two or three tablespoons of salt.
3.  Cut about a quarter inch of the tips of the lemons, and then quarter them lengthwise, but without cutting all the way through so that the quarters remain joined by the skin at the bottom of the fruit.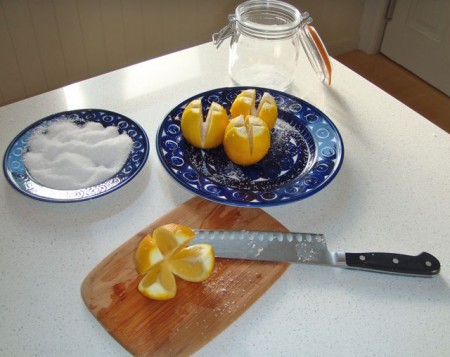 4.  Sprinkle the insides and outsides of the quartered lemons liberally with salt and then press them into the jar, squishing out as much juice as possible as you do so.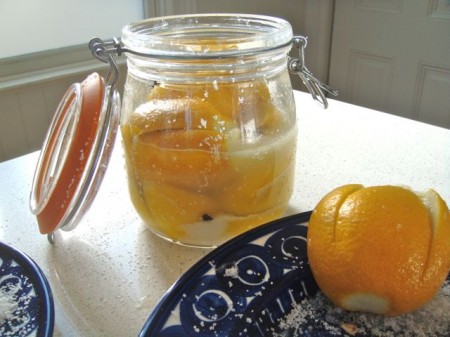 5.  Squishing as you go, layer the fruit in the jar with the spices until it's nearly full.  Then top off the jar with extra fresh-squeezed juice.  Don't overfill — as much as possible, the lemons should remain submerged in the salty lemon juice.
6.  Sprinkle two or three tablespoons more salt over the  top of the filled jar and seal.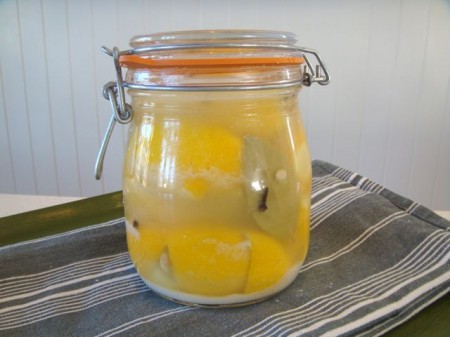 7.  Invert the jar a few times to mix the contents well, and then store it at room temperature for about a week, inverting it from time to time to mix the contents and keep any exposed lemons on top moist.  Refrigerate for about three weeks more, until the lemon peel is soft.  The preserved lemon will keep in the refrigerator for at least six months.
When it's time to cook with your lemons, remove their pulp and seeds and rinse the remaining rind well before proceeding with your recipe.  (The pulp has almost no flavor but holds a lot of salt.)
If you're in need of instant gratification, you can order a jar of preserved lemon from http://www.kalustyans.com while your first batch cures.  They're good, but yours will be better.