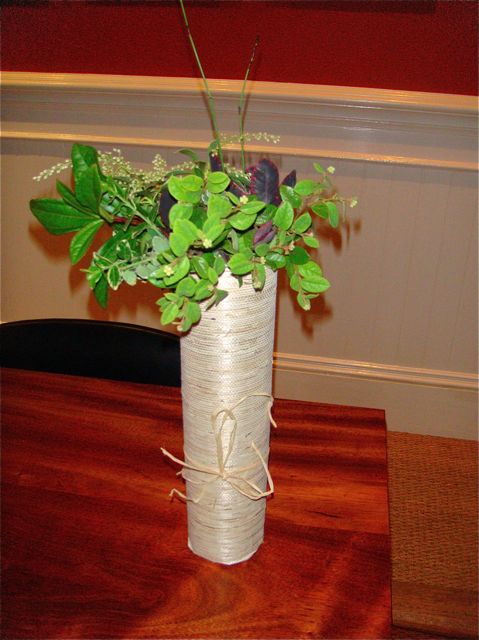 I can't take any credit for this beautiful host gift, except, possibly, for my taste in friends.  It was given to me recently by my friend John, who is a prominent physician in San Francisco and also one of the most creative and thoughtful people I know.
Around a bottle of wine, John made a cylinder "vase" from some leftover grasscloth wallpaper and tied it with a piece of raffia.  In the top he nestled a short, tight bouquet of greens and tiny white flowers cut from his garden, placing the stem end down in the well formed by the neck of the bottle.  He kept the bouquet temporarily moist with a damp paper towel wrapped in plastic film, and held it together with another strand of raffia.
It was the most inventive, beautiful presentation of wine that I had ever seen, and the bouquet was a nice size for a bedside or powder room arrangement.  I think this concept could easily be interpreted in a range of readily available materials –kraft paper, rice paper, newspaper, tulips, viburnum, lilac–and I plan to borrow it liberally.
Come to think of it, this was a triple gift:  wine, flowers and a great gift idea.
Thanks again, John.