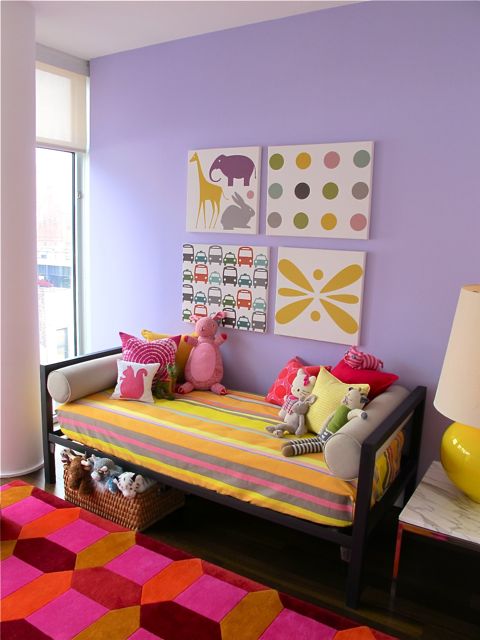 Julia's 18 months old now and changing every day from a baby into a little girl. Recently, I've made some changes to her room in New York that, I think, make it less babyish and reflect her new high energy and sunny disposition. This week's project was bright new cover for the daybed (and plush toy stage) in her room. (Last week's was a cheerful new lampshade.)
The simple modern bed from Room & Board (www.roomandboard.com) had been slip-covered in a flax colored linen.  The color was neutral, soft and soothing –nice for a baby.  To turn up the volume to toddler level, I chose a bright yellow stripe from Les Toiles du Soleil, a old French fabric house specializing in wonderful bright stripes.  Les Toiles du Soleil has its only American outpost just a few blocks from our place in Chelsea at 261 West 19th Street (at 8th Avenue). They also have a good online store at www.lestoilesdusoleilnyc.com.  I brought in the old slip cover, and, in less than a week, they copied it in the new fabric "Collioure Safran" for about $250, including both labor and materials.
I think it's a hit.  When I was putting the new cover on her bed, Julia ran across the room, gathered the fabric in her arms and squealed with delight.  Now for her other rooms . . .