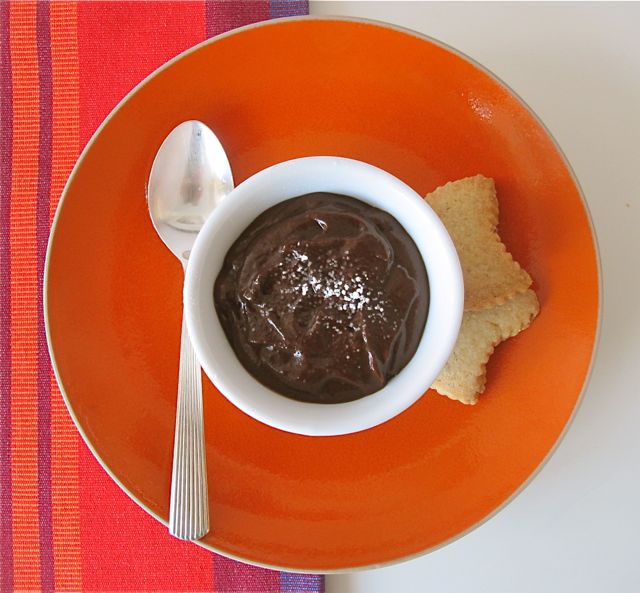 As of last night, these are Alice-tested and approved.  Alice is our next door neighbor in New York, and she's a connoisseur of rich, deeply flavored chocolate desserts.  I've been taken with this recipe for a while now, but I'm more of a fruit dessert person at heart (tarts, pies and the like), so I though I'd let Alice have the final say before I shared it.
These are really traditional chocolate pots de creme, but with an interesting Turkish twist: their deep chocolate flavor is warmed with mild, nutty Turkish coffee and brightened with hints of cardamom and cinnamon. They're comforting and a little exotic at the same time, and almost overwhelmingly delicious.
The recipe is relatively easy and the active cooking time is short, but the coffee and spices need to steep in the cream for at least an hour, so it's not something you can make in a rush.  The pudding keeps well in the fridge, though, so it's a good make-ahead dessert, provided you're willing to run the risk of theft before dinnertime. Just bring it to room temperature before serving to restore its soft creamy texture and the full spectrum of its flavors.
Recipe
(Adapted from Turkish Coffee Creams from Turquiose, a Chef's Travels in Turkey by Greg and Lucy Malouf.  Serves 4-6.)
Ingredients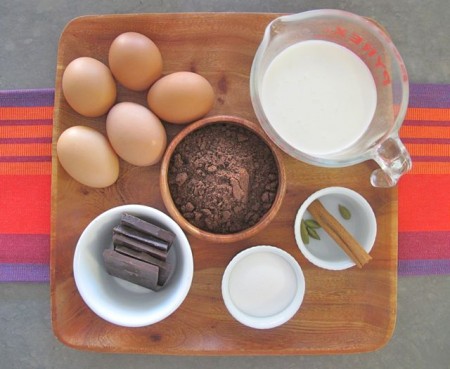 1/2 cup plain Turkish coffee, finely ground (available at Turkish and Middle Eastern specialty stores and www.amazon.com)
4 cardamom pods, lightly crushed
1 stick cinnamon
1 cup heavy cream
2 oz best quality dark chocolate (at least 70% cacao), finely chopped
5 egg yolks
1/4 cup superfine sugar
pinch of salt
Instructions
1.  Moisted the coffee grounds with a little water and place them in a thin cotton or linen dish towel with the cardamom pods and the cinnamon stick.  (Cheese cloth has too loose a weave for this and will allow coffee grounds to escape into the cream.)  Tie closed with kitchen twine.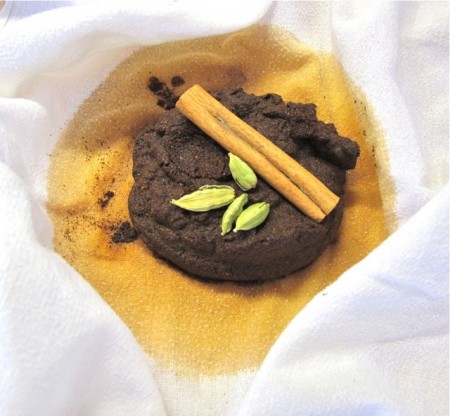 2.  Pour the cream into a small saucepan, add the coffee/spice packet and bring to the boil over medium heat. Then, reduce the heat and simmer for five minutes. (Wind up the dry part of the towel and tie it around the handle of the saucepan to keep it out of the fire.) Turn off the heat and leave to cool and infuse for about an hour.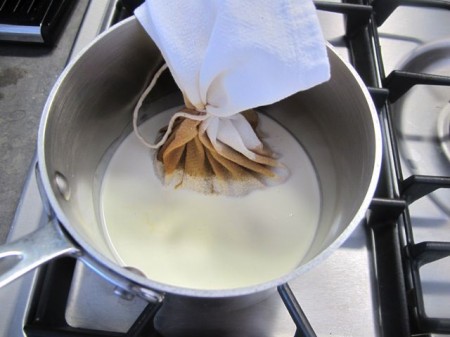 3.  Fill a bowl larger than your saucepan with ice water.
4.  Squeeze the coffee/spice packet to extract as much flavored cream as possible, then discard it.  (The dish towel, of course, can be laundered and reused.)  Reheat over low heat, and then add the chocolate, stirring it until it melts into the cream.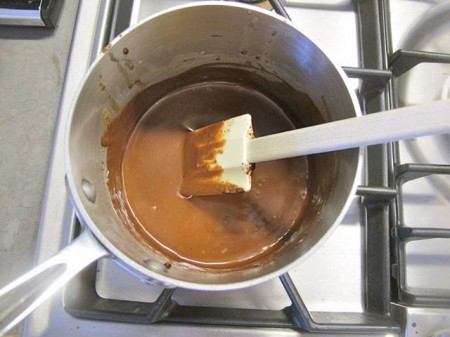 5.  In a separate bowl, whisk the egg yolks with the sugar and a pinch of salt.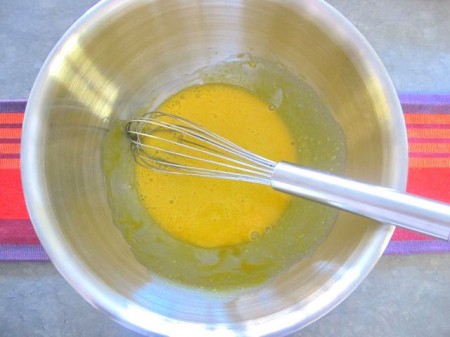 6.  Pour a bit of the warm chocolate cream into the egg mixture and whisk to combine.  Then add the rest and whisk again.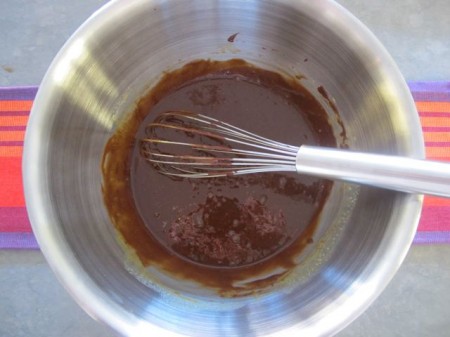 7.  Rinse out the pot, pour the mixture back into it and cook over medium-low heat, stirring constantly until the pudding is thick enough for you to draw a distinct line through it on the back of a spoon. (This will just take a minute or two.)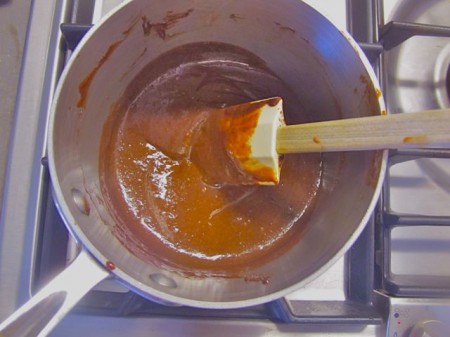 8.  Remove the pan from the stove and place it in the ice bath.  Stir from time to time until the mixture cools to room temperature and thickens into a custard. (This will about five minutes.)
Spoon into small ramekins or demitasse and lick the pan and spatula clean. Serve immediately, or refrigerate covered with plastic film for later use.  When cold, he texture is a bit sticky and the flavor a little dulled, though, so bring your pots de creme to room temperature before serving.