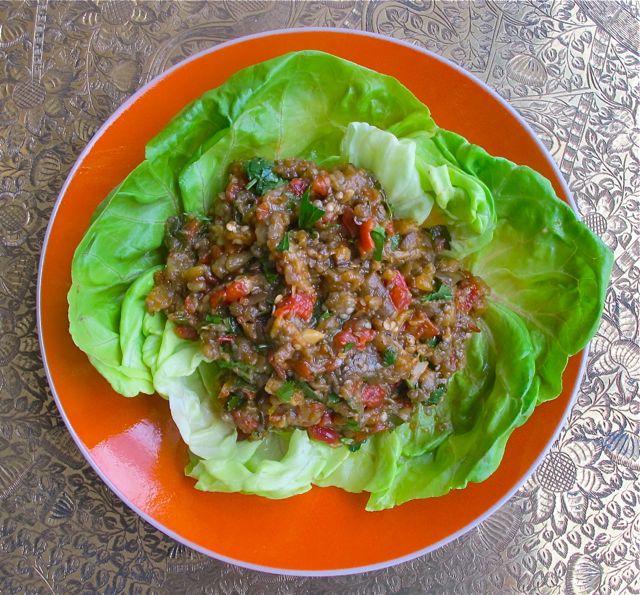 Zaalouk (sometimes spelled Zahlouk) is my favorite traditional Moroccan salad, and probably one of my favorite foods. The dish's eggplant base is rich and creamy, enhanced by the flavor of toasted cumin and accented with tomato, lemon and cilantro. It's loaded with flavor, but at the same time light and refreshing.  And not loaded with fat or calories.
It's also a very versatile dish.  As a cocktail snack, it's great served as a dip with pita chips, or you can spread some on slices of toasted baguette for a more finished presentation.  Add, say, grilled shrimp and some tossed greens, and it becomes an elegant first course for dinner.  Add some pita bread or toast to that, and it makes a delicious light lunch.  I often make a batch a day ahead and keep it around to serve to weekend guests, however and whenever the need arises.
Recipe
(adapted from Ghillie Basan, Flavors of Morocco)
Ingredients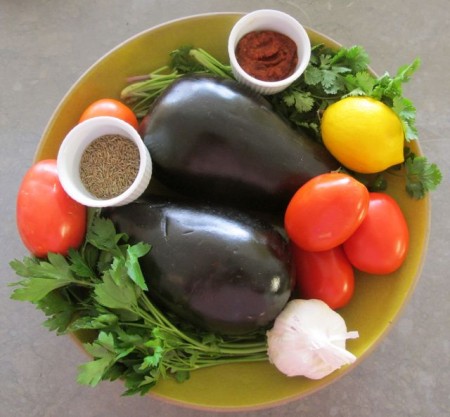 2 large eggplants
4 large tomatoes (or about 6 roma tomatoes)
6 tablespoons of olive oil
2-3 garlic cloves, roughly chopped
1 tablespoon of Harissa (this can be omitted if you don't have any handy).  I've posted a recipe for this delicious and versatile North African condiment here, but you can also buy decent prepared Harissa in middle eastern groceries, some good supermarkets and from online resources such as amazon.com.  (I avoid Harissa packaged in metal tubes or cans as it can have a strong metallic taste.)
a small bunch of flat-learf parsley, chopped
a small bunch of cilantro, chopped
juice of 1 lemon
1 teaspoon of cumin seeds
salt and pepper
Instructions
1.  Preheat the oven to 400F.  Place the eggplants on a baking sheet and roast them for 30-40 minutes, until they feel soft when you press them with your finger. At the same time, put the tomatoes in a baking dish, pour about 3 tablespoons of the oil over them and put them in the oven with the eggplants.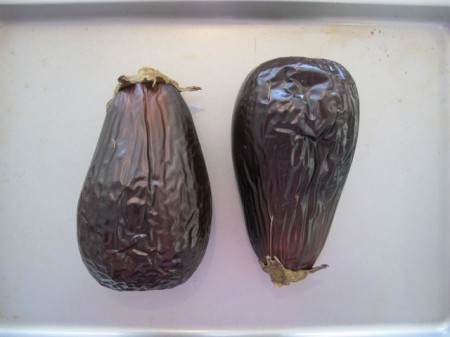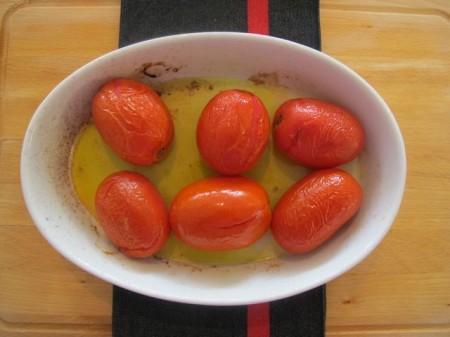 2.  Toast the cumin seeds in a small skillet over medium heat until they begin to color and smoke.  Transfer them to a spice grinder (a repurposed hand-held coffee grinder works well) or a mortar and pestle and grind them to a fine powder.
3.  When the eggplants and tomatoes are cool enough to handle, cut the eggplants in half, scoop out the flesh with a large spoon and chop it to a pulp.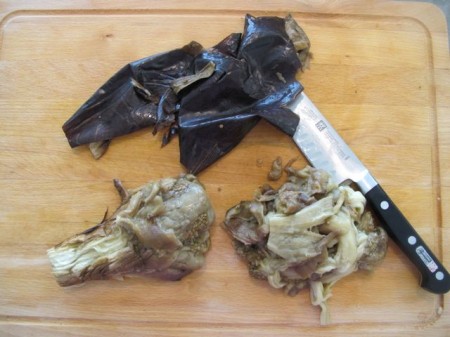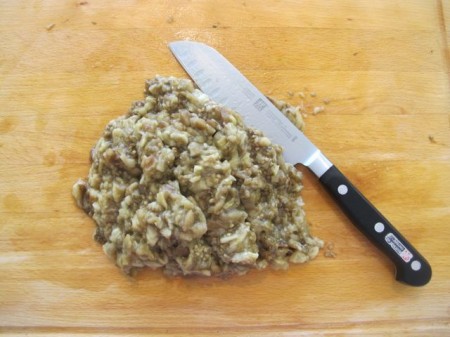 4.  Then skin the tomatoes (this should be easy after they're roasted), quarter them and remove and discard the seeds.  Chop them into a pulp as well.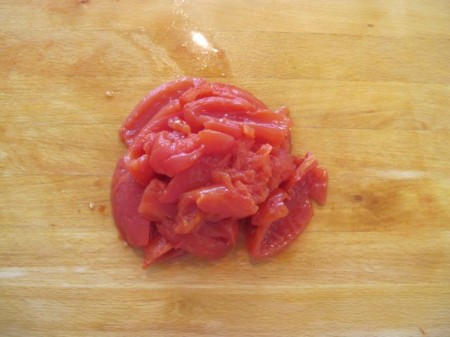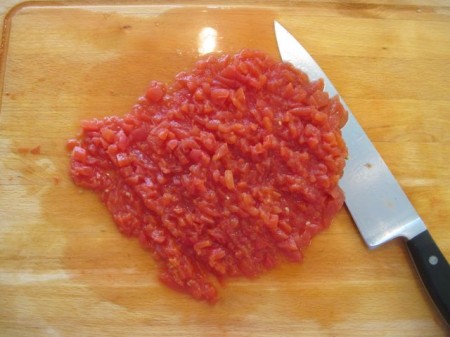 5.  Heat the remaining 3 tablespoons of oil in a large skillet for about a minute. Add the garlic and saute it until it begins to color, stirring constantly.  (The oil should not be hot enough to fry the garlic, though.)  Add the tomatoes and Harissa and cook over medium heat until thick, about 8 minutes.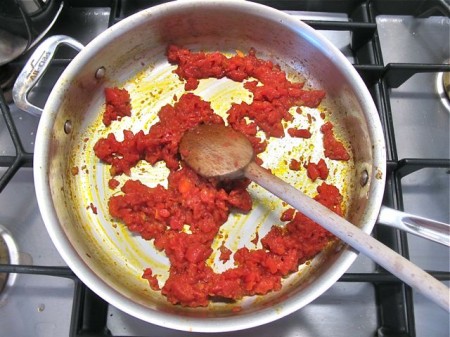 6.  Add the eggplant, parsley, cilantro and cumin, and mix until well combined.  Stir in the lemon juice and season to taste with salt and pepper.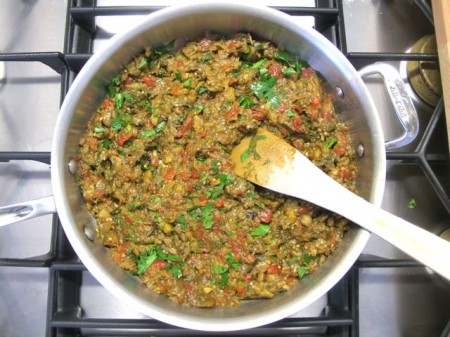 Zaalouk is best served at room temperature.  It will keep well in the refrigerator for two or three days, but try to take it out an hour or so before you serve it to take the chill off.