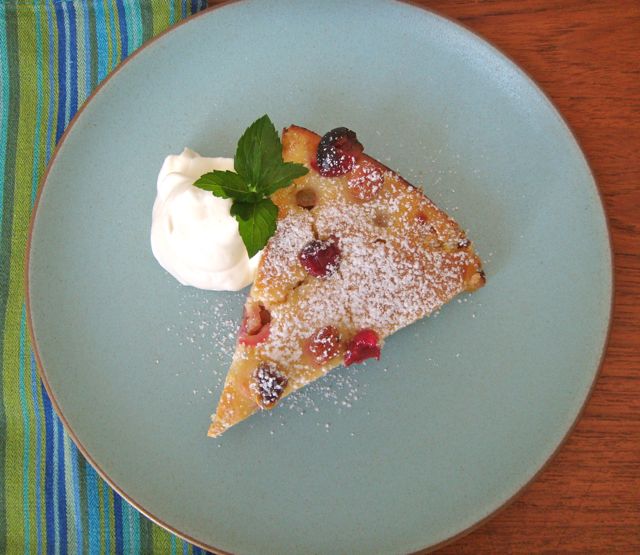 Last Monday good friends with a farm in upstate New York brought us box of beautiful late summer produce. In it was a big basket of tiny wine grapes — super ripe and filled with a flavor that's tarter and more complex than supermarket table grapes. (I've noticed these grapes starting to appear in markets too.)
After sharing with our neighbor, and eating handful after handful all week, the basket was still nearly half full. I was worried they would spoil before we finished them off, so I decided to use them in a dessert for a dinner party on Saturday. I remembered a Patricia Wells recipe for a grape cake that I had made years ago in California, managed to find it, and my partner David did the baking. (He had dessert duty on Saturday.) We loved it. The batter is light, accented with citrus and not terribly sweet, letting the subtle flavor of the grapes take center stage. It's also a quick, unfussy recipe, as cakes go, so if you run across some wine grapes this season, I'd recommend giving this a try.
(adapted from Patricia Wells at Home in Provence)
Equipment:  9-inch springform pan
Ingredients
2 large eggs, at room temperature*
2/3 cup granulated sugar
4 tablespoons (2 ounces) unsalted butter, melted
1/4 cup extra-virgin olive oil
1/3 cup whole milk
1/2 teaspoon vanilla extract
11/2 cups all-purpose flour
3/4 teaspoon baking powder
1 pinch of table or fine sea salt
grated zest of 1 lemon
grated zest of 1 orange
10 oz small fresh grapes
confectioners' sugar, for garnish
*A quick way to get eggs from the refrigerator to room temperature is to put them in a small bowl of hot tap water for about 10 minutes.
Instructions
1. Preheat the oven to 350F.
2. Butter and flour the pan.
3. In the bowl of an electric mixer fitted with the whisk, beat the eggs and sugar until they are thick and light yellow, about 3 minutes.  Add the butter, oil, milk and vanilla, and mix until blended.
4. Sift the flour, baking powder and salt into a large bowl.  Add the lemon and orange zests and toss to coat them with flour.  Spoon the mixture into the bowl of batter and stir with a spoon or spatula until thoroughly blended.  Scrape down the sides of the bowl, mix again, and then set the batter aside for 10 minutes to allow the four to absorb the liquids.
5. Gently stir about 3/4 of the grapes into the batter.  Spoon into the prepared cake pan and smooth the top with a spatula.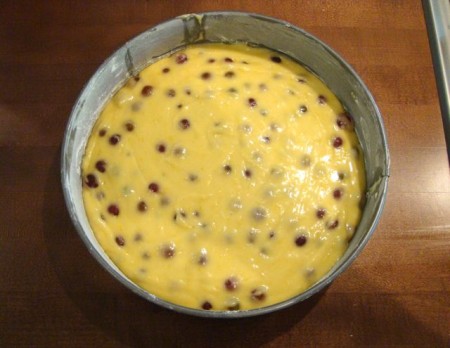 6. Place the pan in the center of the oven, and bake for 15 minutes.  Then sprinkle the top with the remaining grapes.  Bake until the top is a deep golden brown and the cake feels quite firm when pressed with your fingers, about 30 minutes more, for a total baking time of 45 minutes.  Cool on a rack.  After about 10 minutes, run a knife to separate the cake from the side of the pan and release and remove the side ring, leaving the cake on the base of the pan.  Serve at room temperature, sprinkled with confectioners' sugar.