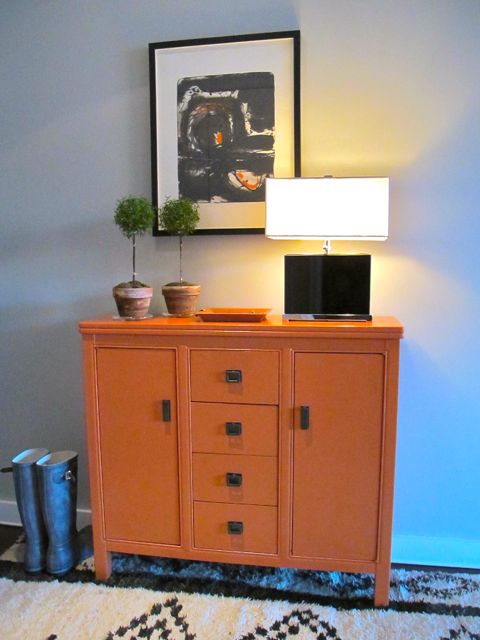 We've walked through this entryway for nearly two years now.  The time has flown by, but a lot has happened too, including Julia growing from a tiny baby to a walking/talking/singing/dancing little girl with a rapidly expanding vocabulary and a strong mind of her own.  We've loved this apartment in West Chelsea, but, if all goes according to plan (no small feat in the world of Manhattan real estate), we'll be moving in the spring.
Fortunately, since we love our neighborhood and our neighbors, we're moving just around the corner.  We've bought a spacious loft in a 1906 industrial building that once housed the Lifesaver candy factory (and a famous leather bar called the Spike, although that wasn't highlighted in the developer's sales materials).  It's a new residential conversion, but we're planning to replace the cramped kitchen and make some aesthetic changes that will help make the place feel like our own. Over the next few months, I'll share our plans and our progress with you and seek your opinions on some key decisions as we remodel and decorate our new place.
In the mean time, here's some information about our outgoing entryway, one of my first projects in our soon-to-be-former home.
The apartment is clean, modern and bright, with a complete wall of glass in every room, but it was also a little cold and featureless.  In particular, the entry was small and awkward, with an oddly off-center door.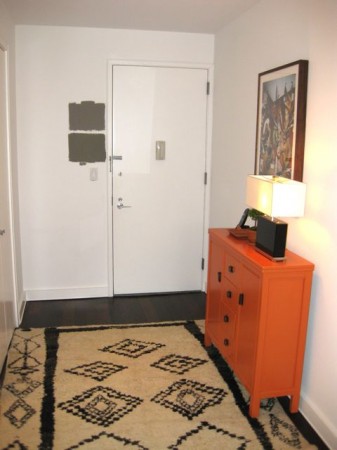 To quickly and inexpensively define and warm the space (and to draw attention away from that door) I painted it and surrounding wall a dark warm gray and used a lighter shade of the same color on the adjacent wall.  To add a colorful focal point, I bought an inexpensive entry cabinet at Crate and Barrel.  It came with an unconvincing faux cinnabar finish that I repainted in a bright orange water-based enamel.  (I used the powder room as my paint shop.)  A small black-and-white Beni Ouarain tribal rug from Morocco helped warm up the space and make it feel larger.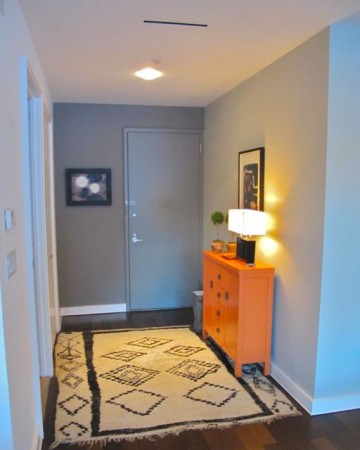 The entry in our new place has some issues too, and I'll share our plans for solutions in the next few weeks.
Wish us luck.
DD