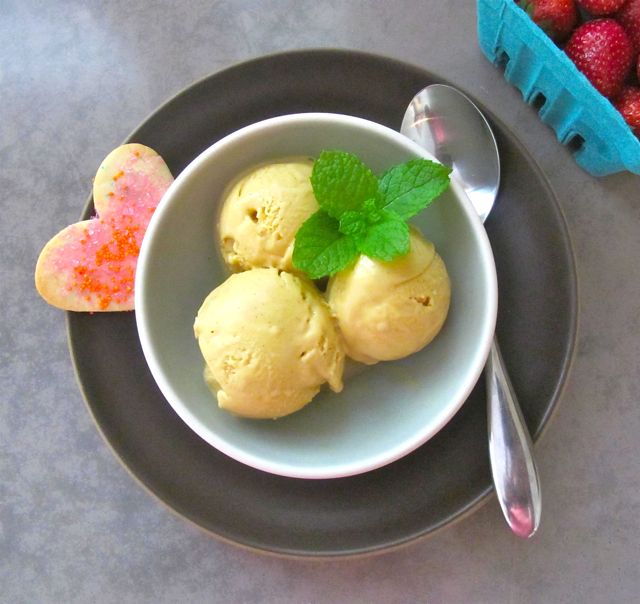 On Saturday morning Julia asked me, "What kind of ice cream are you making today, papa?"  It's become a weekend ritual this summer.  I make ice cream and Julia usually sits on the counter and helps, or at least jumps in when it's time to lick the dasher.  When I answered, "Indonesian palm sugar ice cream, sweetie," I was reminded of a recent comment from a reader:  "I love your blog, but what's up with the weird ice cream flavors?"
I guess I prefer "unconventionally delicious" to weird, but I have to admit this one's pretty far off the road.  Try it, though.  It's wonderful.
Palm sugar is a rustic, natural Asian sweetener made from the sap of the palmyra, coconut or sago palm.  The flavor is a bit like standard brown sugar, but in the way grape juice is like a fine old Napa Cabernet.  It tastes of brown butter, toast, caramel, coffee, honey and whiskey (these are a few of my favorite things) and, like wine, varies quite a bit from region to region, maker to maker and batch to batch.  My current favorite is dark Indonesian Gula Jawa (available at Asian markets and online here), but palm sugar is produced all over South and Southeast Asia, and I'm far from trying all of its variations.  Western brands aimed at the health food market sell for $12 -$25 a pound, but you can pick up a pound of many Asian brands for just a few dollars.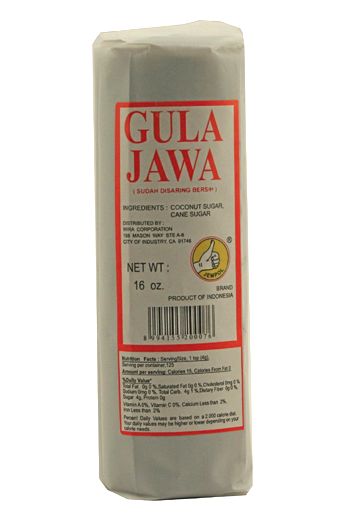 The complex caramel-like flavor of this ice cream is delicious accompaniment to summer stone fruit desserts like peach pie or a plum tart.  I also love a scoop with half a grilled nectarine.  For winter, I'm already planning a sundae with bittersweet chocolate sauce (flavored with just a hint of orange) and a big dollop of whipped cream . . . .
Recipe
Ingredients
3 1/2 cups (850 ml) whole milk
1/2 cup (150 ml) heavy cream
2 tablespoons corn starch
1/2 cup (150 ml) light corn syrup
3/4 cup (200 ml) palm sugar, lightly packed
1/2 teaspoon salt
1/2 vanilla bean (optional)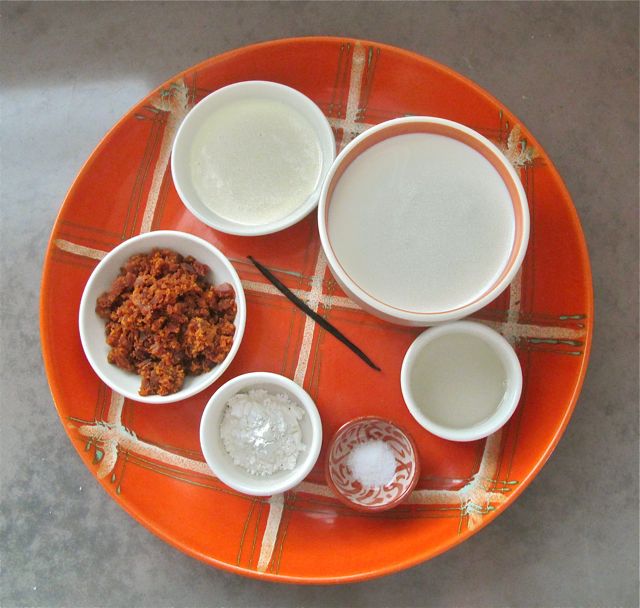 Instructions
1.  Combine the milk and cream in a medium saucepan.  Spoon out about 1/4 cup (75 ml) of the liquid and put it into a small bowl with the cornstarch.  Stir or whisk to dissolve.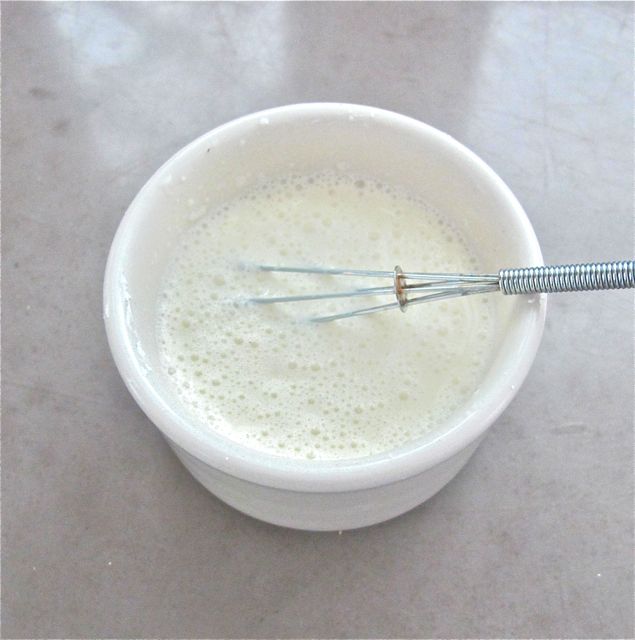 2.  If your palm sugar came in a block (as most does), shred it by slicing it thinly with a heavy knife.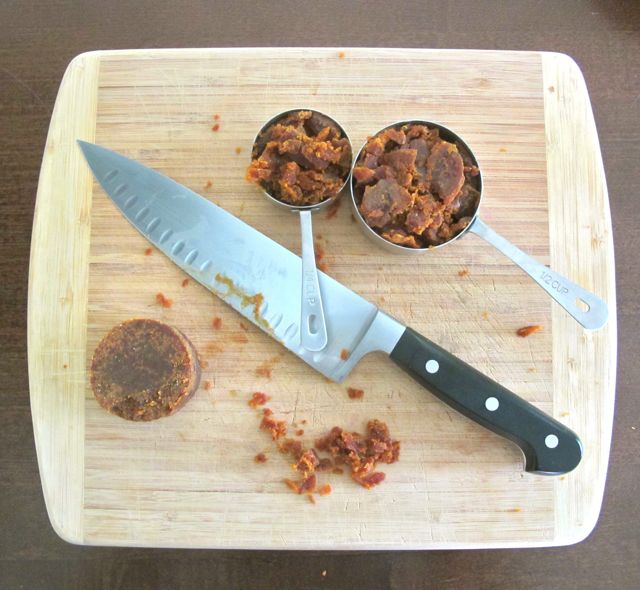 3.  Split the vanilla bean lengthwise and scrape out (and reserve) the seeds.
4.  Add the corn syrup, half vanilla bean and seeds, salt and palm sugar to the milk mixture.  Bring to the boil, stirring frequently. Make sure all of the palm sugar dissolves.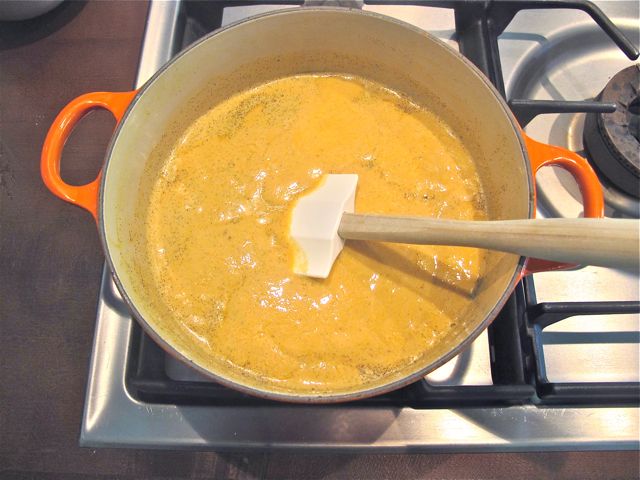 5.  Turn off the heat and stir in the cornstarch slurry.  Bring to the boil again.
6.  Prepare an ice bath in a large bowl.  (If, unlike me, you can patiently wait for your ice cream, you can skip this step and chill your ice cream base in the fridge for at least 3 hours). Strain the hot liquid into another bowl (preferably metal), place it in the ice bath, and stir until it's cool to the touch.  (Note that some ice cream makers require the base to be cooler than this before freezing.  It's a good idea to reread the instructions if you haven't used it in a while.)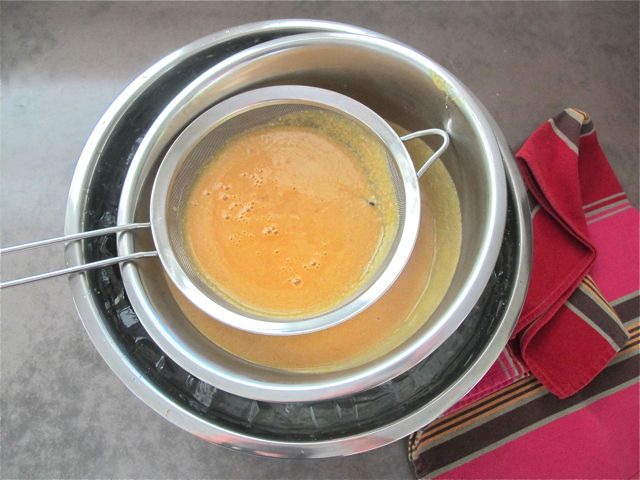 7.  Freeze in an ice cream maker according to the manufacturer's instructions. Stop when the ice cream is the texture of soft serve, transfer to a (preferably already frozen) container and chill in the freezer for at least 2 hours before serving.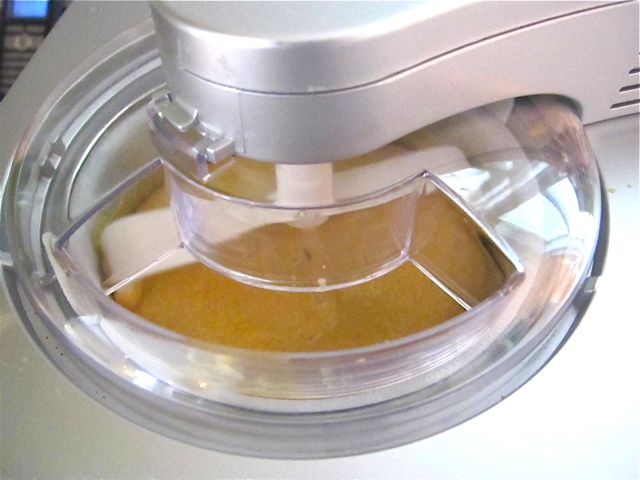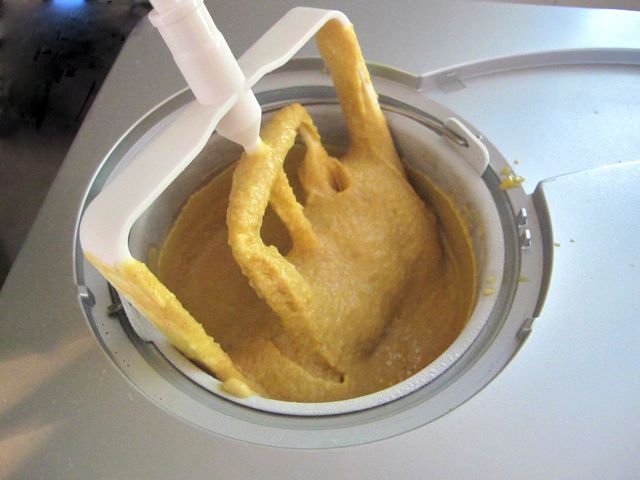 Serve with stone fruit or berries, or with just a spoon.