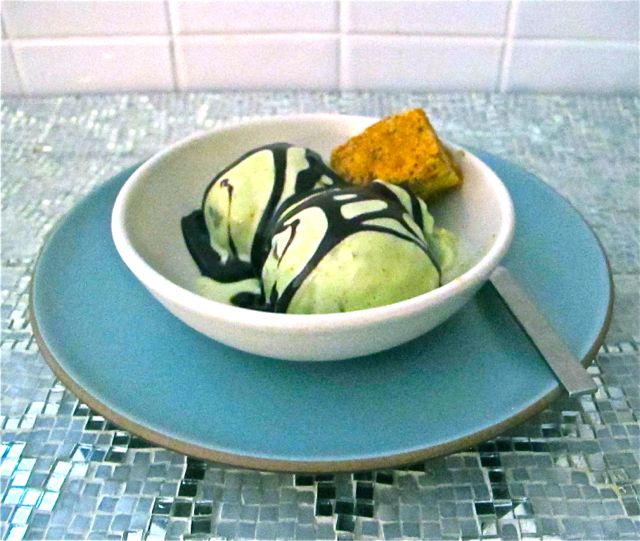 One of my favorite rituals this summer was sharing a cup of pistachio gelato with Julia.  We both love it  –if it's good; that is, flavored with the subtle, unique taste of fresh green pistachios and little else. This ice cream is something different, though, and I'd never had anything like it until my friend (and an excellent cook) John brought it to Dinner at Marta's in October.  It's rich and creamy, of course (there's egg yolks and cream to thank for that), but the toasted, salted nuts add a warmth and complexity that turns a pistachio ice cream into an autumnal treat.
It's delicious on its own, but also a great accompaniment to a fall fruit pie or tart. (John served it with a delicious fig and mascarpone tart, and I think it would also be nice with something made from apples or pears.)  For a dinner with hosted on Saturday, I didn't have time to bake, though, so I topped John's ice cream with dark chocolate sauce and garnished the sundae with a piece of pistachio rosemary shortbread to add some buttery crunch.  (To make the shortbread –which involves only about 5-10 minutes of active time– just follow my recipe for rosemary shortbread and add a half cup of roasted, salted pistachios when you blend all of the ingredients.)
Recipe
Ingredients
1 cup (240 ml) roasted salted pistachios (shelled)
2 (480 ml) cups half-and-half
4 egg yolks
2/3 cup (160 ml) sugar, plus 2 tablespoons
1 tablespoon sugar
1 cup heavy cream
1 teaspoon vanilla
green food coloring (optional)
Instructions
1.  In a food processor fitted with the blade attachment, process 2/3 cup (160 ml) of the pistachios to the consistency of ground coffee.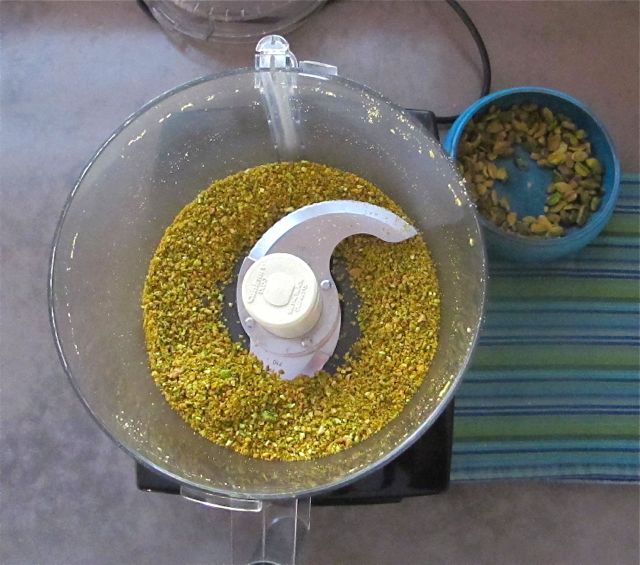 2.  Put the ground nuts and the half-and-half in a double boiler.  Heat to a low simmer for about 15 minutes to infuse the flavor of the nuts into the cream.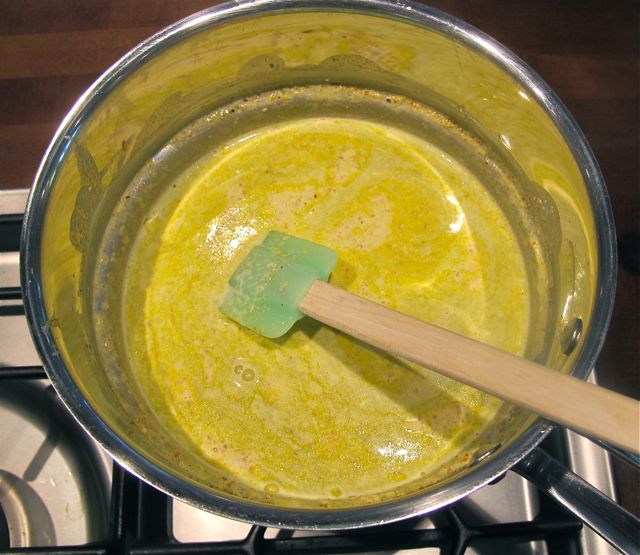 3.  In the meantime, whisk the egg yolks with 2/3 cup (160 ml) sugar in a bowl.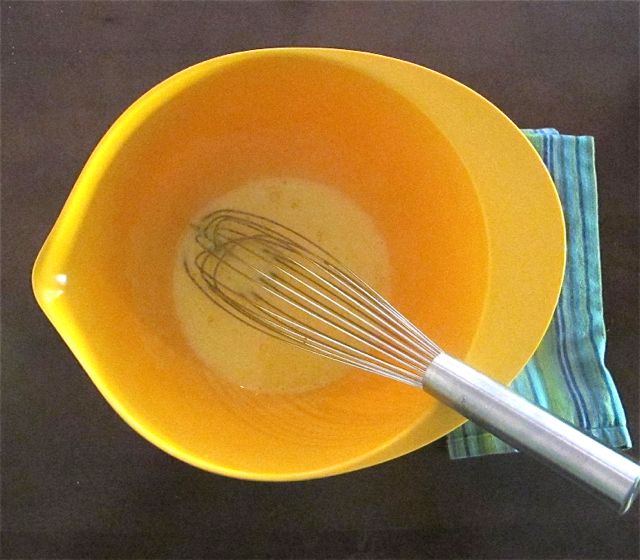 4.  Strain the nut and cream mixture into a small bowl.  Discard the chopped nuts.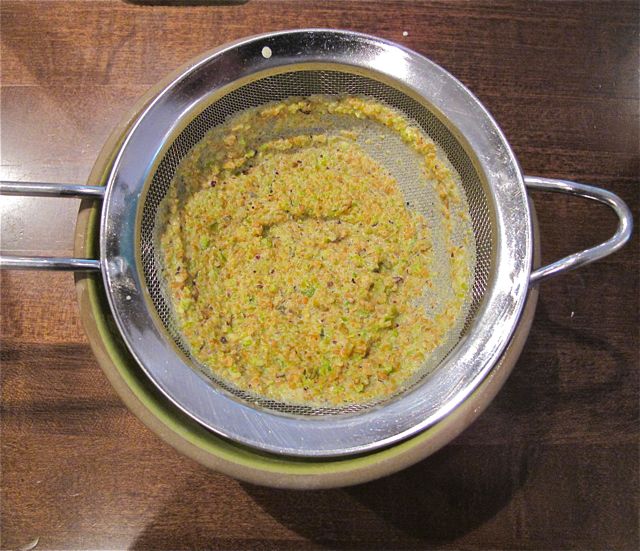 5.  Pour a bit of the hot, strained cream into the eggs to temper the mixture.  Whisk, and then gradually add the rest, whisking until well blended.  Pour the custard back into the double boiler and cook, stirring frequently, until it's thick enough to coat the back of a spoon.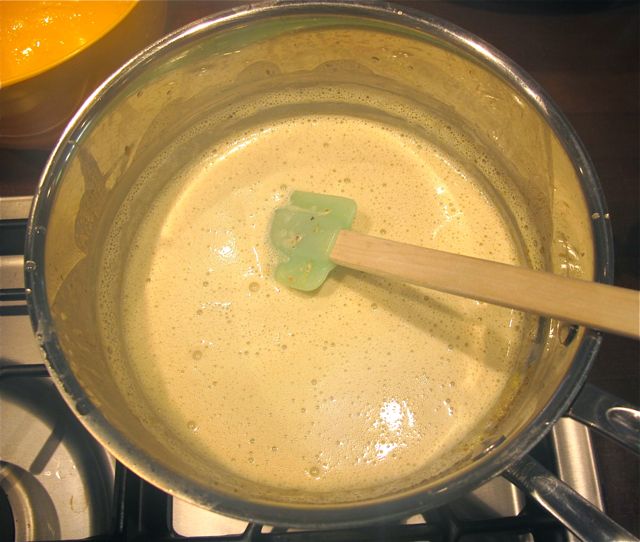 6.  Chill the custard over an in an ice bath until it reaches room temperature.  Stir in the cream and the vanilla.  Using roasted and salted pistachios instead of raw ones will make the custard a yellowish tan. If you want the ice cream to be a classic pistachio green color, add a few drops of green fool coloring to the mixture.(Many would regard this as cheesy or cheating, but I couldn't resist.)  Chill further over the ice bath or in the refrigerator before freezing.  (If you have an ice cream maker that uses a pre-frozed cylinder, you'll probably need to chill the custard in the fridge for 3-4 hours before proceeding.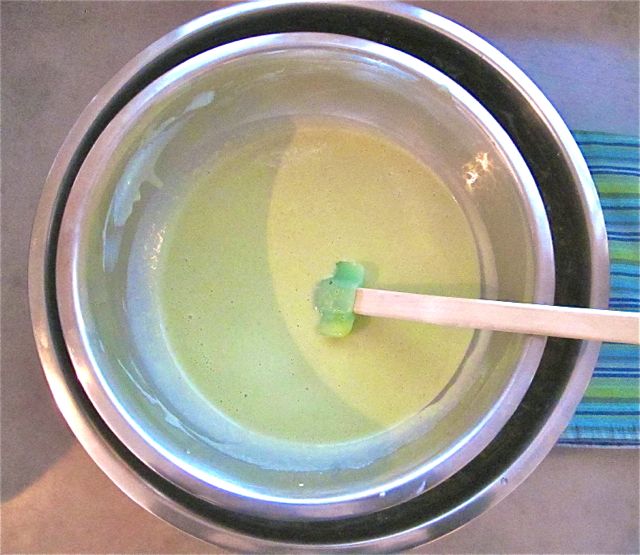 7.  While the custard is chilling, melt the butter in a small skillet.  Stir in the remaining 2 tablespoons of sugar and the remaining 1/3 cup (80 ml) of pistachios.  Stir until the nuts are well coated with the sugar and then remove to a plate to cool.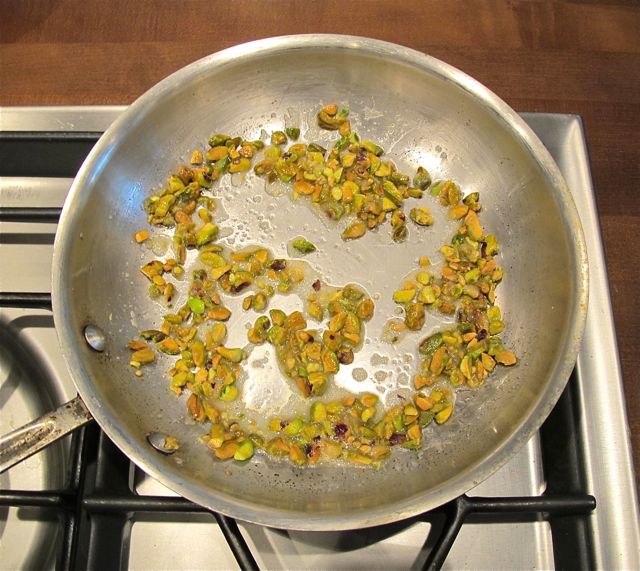 8.  Freeze the custard according your ice cream maker's manufacturer's instructions.  When the ice cream is partially frozen, add the sugared nuts.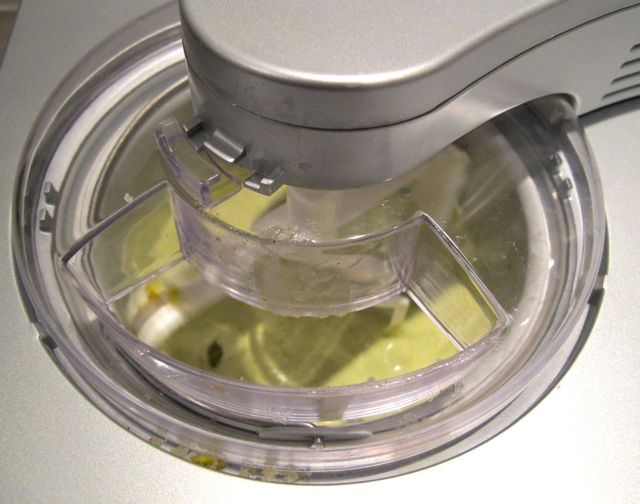 9.  Lick the dasher and then transfer the ice cream to a (preferably frozen) container and place in the freezer for 3-4 hours until serving.