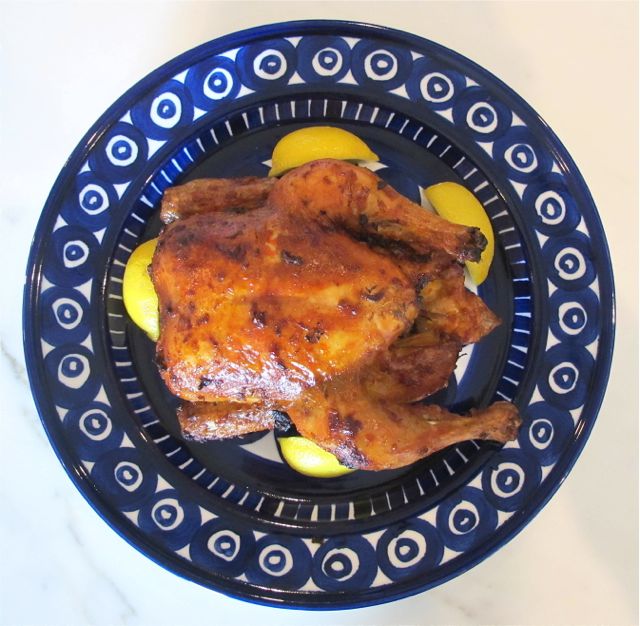 We love a good roast chicken and probably eat one for dinner more often than anything else.  This recipe isn't an improvement on that comforting classic, but it is a nice variation.  To give the bird some extra flavor, I use the North African condiment called harissa to make a simple marinade.  Harissa is a paste made from hot red peppers, red bell peppers and spices.  It varies a lot from region to region and kitchen to kitchen –some are hotter and brighter and some mellower and smokier– but all that I've tried taste great with chicken, giving it a rich, smoky and slightly sweet flavor after roasting.  Harissa can be quite spicy, so taste it alone before you add it to the marinade. Unless (like me) you like pretty spicy food, use closer to 2 tablespoons of a hot harissa and 4 tablespoons of a milder one.
It's fun to make harissa yourself and tweak the ingredients to get a flavor balance you love, but there are also some very good commercial harissas available in Middle Eastern markets and even good supermarkets now, and I often use them (here's my current favorite), although I try to avoid the ones packed in cans or metal tubes as they often have an unpleasant metallic aftertaste.
As with any roast chicken, the keys to success here are using a small bird (for more servings, just roast more of them), a preheated roasting pan and a very hot oven.
Recipe
(for 2-3 people)
Ingredients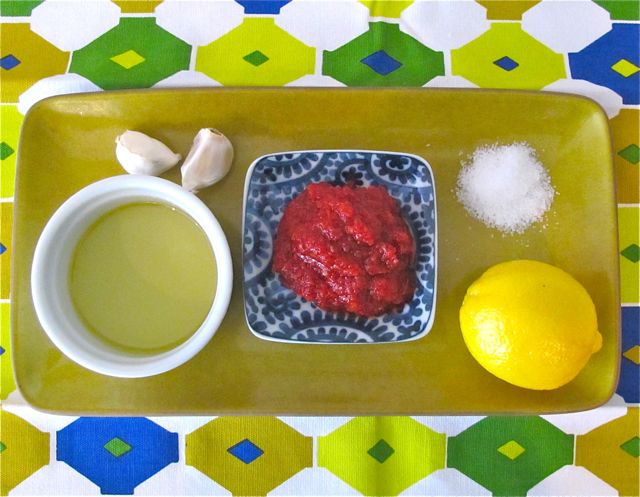 1 small chicken, about 3 pounds (1.4 kg)
2 cloves garlic
Grated zest of 1 lemon
3 tablespoons olive oil
1 teaspoon kosher salt
2-4 tablespoons harissa, homemade or store-bought, the quantity depending on the heat of your harissa and your palate.
Instructions
1.  Peel and slice the garlic as thinly as you can and then chop it into slivers.  Mix it together with all of the other ingredients (except the chicken).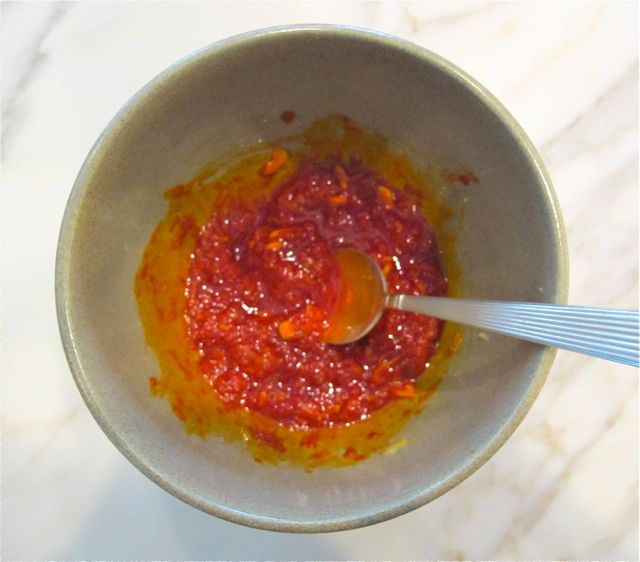 2.  Dry the chicken with paper towels and remove the lump of fat inside.  Using your fingertips, open a pocket between the skin and flesh over the breasts and thighs.  Fill each pocket with about a tablespoon of the marinade and press down on the skin to distribute it underneath.  Slather the remaining marinade all over the bird; cover and refrigerate it for at least 4 hours, or overnight.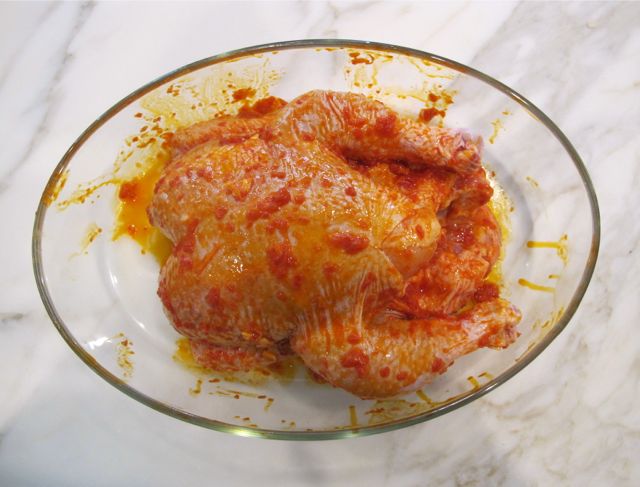 3.  About 45 minutes to an hour before you're ready to roast, pull the chicken out of the fridge, unwrap it and let it sit in the open to warm up a bit.  Preheat the oven to 475F (250C).  On the stove, heat a small flameproof roasting pan over high heat for about two minutes. (If you don't have a small roaster, an overproof skillet works well too.)  Dry the bottom of the chicken with paper towels and then put it in the hot pan.  It should sizzle.  Then, put it in the preheated oven.  There's no need to add any fat to the pan:  if the pan is hot and the chicken is dry,  the bird won't stick.
4.  Roast the chicken for about 25 minutes.  If the fat it renders starts to smoke, turn the love down to about 450F (230C). (If your oven has a convection feature, us it for this first phase of cooking.)  Then take the chicken out of the oven and, using a sturdy spatula, loosen it from the pan, if necessary, and turn it over.  (Using tongs to do this can tear the skin.)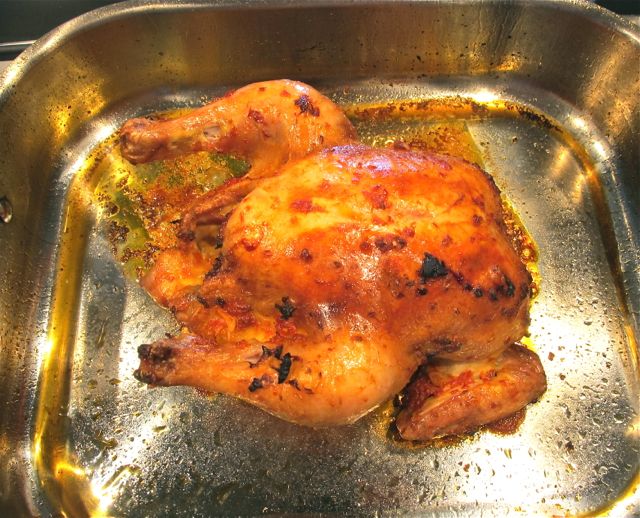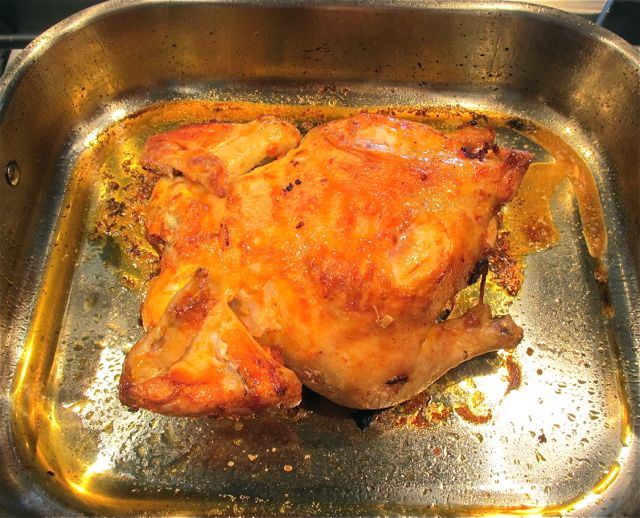 5.  Return the chicken to the oven and roast for an additional 15-20 minutes, until the bottom side is golden brown and crispy. (If you were using convection, turn it off when you put the chicken back in the oven.) Turn the chicken once again, and return it to the oven a final time to recrisp the top, whichwill take about 10-15 minutes more.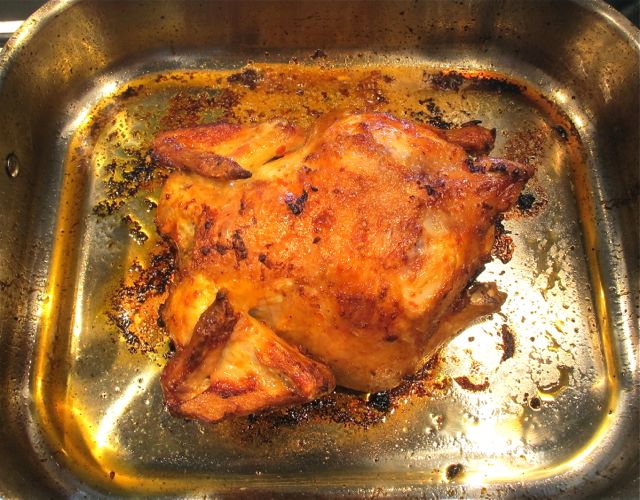 6.  Remove your beautifully crispy chicken to a cutting board and let it rest for 5-10 minutes before carving.  (See here for tips on carving.)
Enjoy a few choice bits of crispy skin and tender meat in the kitchen (for quality control purposes) and then serve garnished with a few lemon wedges.  I'm usually a fan of simple pan sauces, but you won't want one here –the bird will be very moist, and the marinade provides all the flavor you need.  Serve with simple sides for cozy dinner or with a green salad for special lunch.