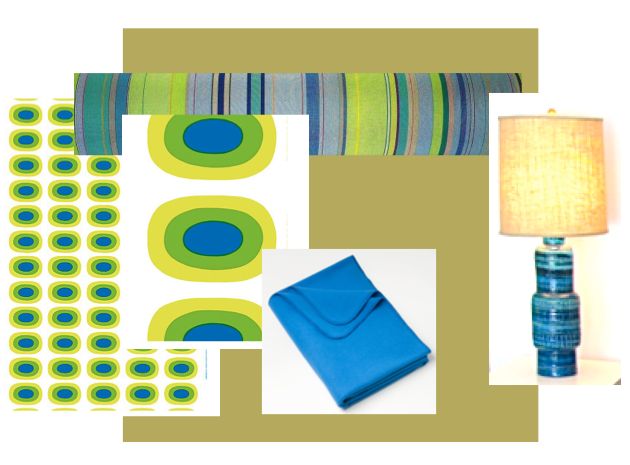 A couple of months ago, I posted about my project to pull together our dreary master bedroom in Southampton.  It's a nice room, but the furnishings, linens and accessories are all left-overs from moves and remodels, and they don't work together.  Many of you offered very useful advice, a common thread of which, I think, was to be bolder in my thinking.
So here's where I am now.
I've decided on a bright yellow-green and blue color scheme over the more subdued options I was considering at the time of the post.  The room is on the darker side of the house and can feel a little cold, so warm, bright colors seem like the best choice.  The paint I like is Benjamin Moore's "Wasabi"(AF-430), a nice bright yellow-green that I've used before.  It's lively but fairly soft and doesn't take on an acid green edge in bright light.
I loved the vintage ceramic lamps I bought for the room, but I've decided to use a pair of vintage blue Bitossi lamps we already had, shown here in a bedroom in our last New York apartment.  The rust, green and orange lamps (below) have found a happy home in our New York guest room.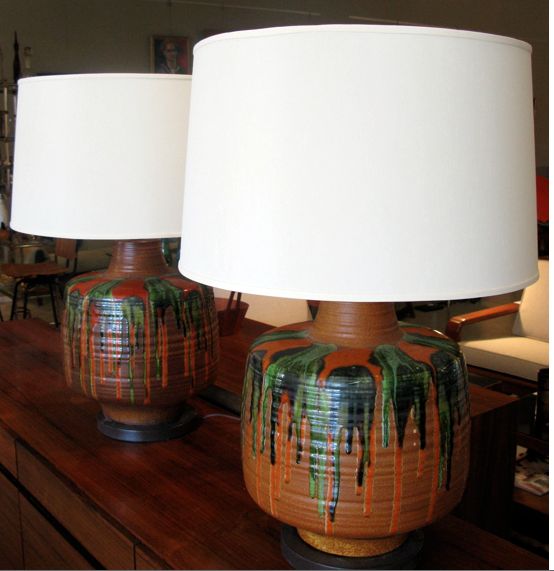 For the bed clothes, I think I'm going to use the classic 1960s Marimekko print on the left side of the montage above.  It's called "Melooni" and comes in a very large and a smaller scale print. The smaller one might be great for a duvet cover, and maybe the large one will work for shams. I also like the stripe from Les Toiles du Soleil.  Maybe I'll make it into bolsters or a slip cover for the headboard, or both.
I still need to sort out the bedside tables, and probably get a reading lamp to place near the lounge chair, but I'm going to buy fabric and paint this week. Memorial Day is fast approaching.