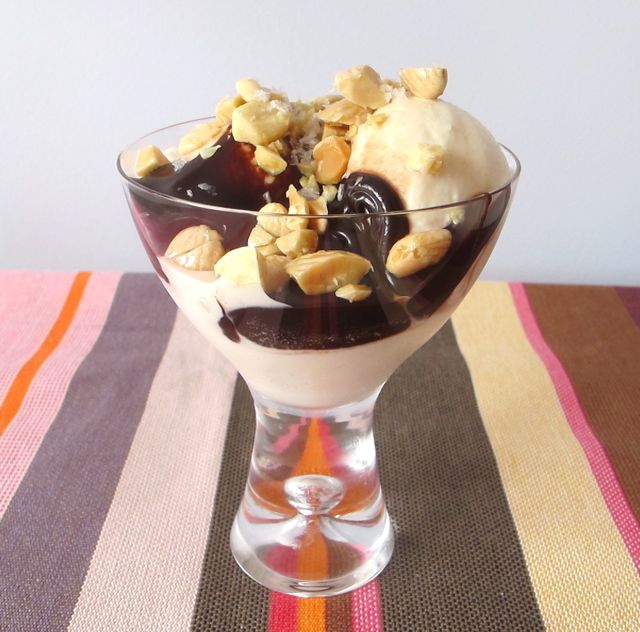 This upgrade to the childhood classic chocolate sundae was actually the result of a total dessert failure.  A couple of years ago, I offered to bring dessert to a dinner party in San Francisco hosted by my friend Marta.  She had requested a lemon tart with a chocolate-lined shell.  Overconfidently, as it turned out, I tackled the project without a proper recipe.  It was a disaster.  The crust was tough, the chocolate was hard and waxy, and the flavor of the lemon curd didn't marry well with the others and left a weird metallic taste on the palate.  Yuck.
Out of time, I searched the pantry for inspiration.  I found a jar of excellent dark chocolate sauce made by the San Francisco artisan chocolatier Michael Recchiuti.  I also had some delicious Marcona almonds from Spain, toasted and bathed in olive oil (one of my favorite snacks).  I quickly ran to the heavenly Bi-Rite creamery on 18th Street to get some vanilla ice cream to make sundaes with these ingredients.  My first taste test yielded good results, but the sweetness was a little cloying.  A generous pinch of flaky Maldon sea salt proved to be the missing ingredient, though, bringing the flavors into a delicious, grown-up balance.  Now this emergency sundae is probably my most requested dessert.
Recipe
Ingredients
Dark chocolate sauce.  Buy the best you can find –Recchiuti and Fran's are my favorites.  Hershey's won't do here.
Marcona almonds.  If you can't find them, toasted regular almonds are fine if you toss them in a little good extra virgin olive oil.
Vanilla ice cream (the best quality you can find)
Flaky sea salt such as Maldon
Instructions
1.  Chop the almonds very coarsely.  Marcona almonds are sold two ways –drenched in olive oil and dry.  If yours are dry, toss them in some of your best extra virgin olive oil before chopping them up.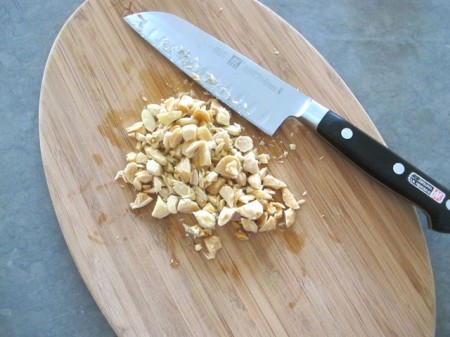 2.  Warm the chocolate sauce in a saucepan of simmering water, but only until it's just lukewarm.  Any warmer and it will melt the ice cream too quickly.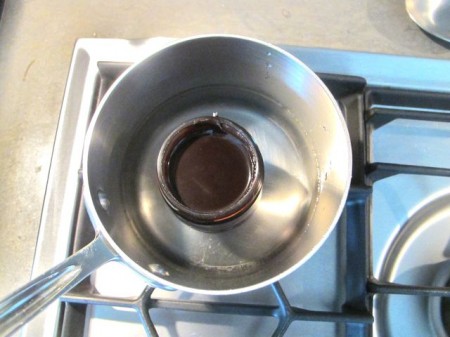 3.  Spoon some warm chocolate sauce over scoops of the ice cream, top generously with the chopped almonds and finish a generous pinch or two of the salt.  Serve immediately.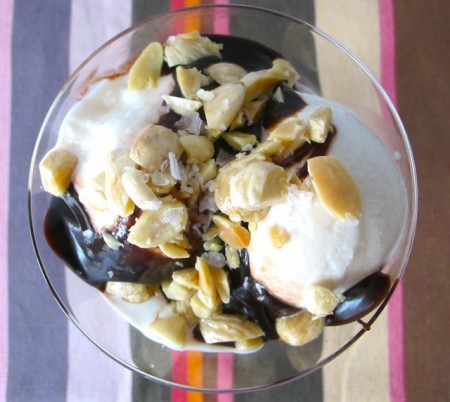 Obviously, this recipe is all about the ingredients.  Recchiuti chocolate sauce can be found in some good grocery stores and online at www.recchiuti.com.  At $10 for 8oz, it's expensive, but a little goes a long way.  And it's worth every penny.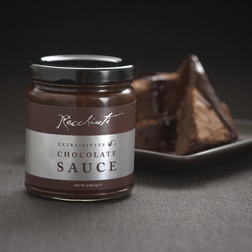 Fran's chocolate sauce is available in many good grocery and specialty stores for about $8.50, and it's for sale online at www.franschocolates.com and www.amazon.com.  Again, expensive, but intensely flavored and worth it.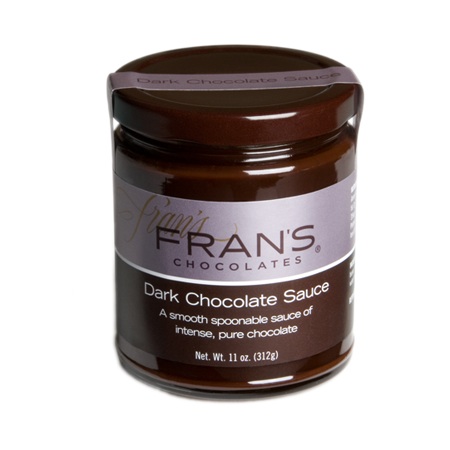 Maldon sea salt is widely available at good grocery stores and online at www.amazon.com for about $7 for 8oz.  It's also excellent on fresh sliced tomatoes and grilled meats.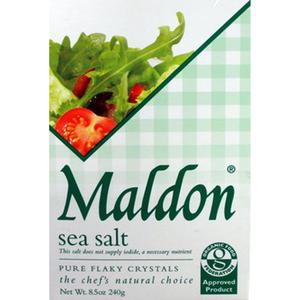 Spanish Marcona almonds are increasingly available at good grocery stores such as Whole Foods.  If you can't find them at your grocer, www.tienda.com has a good selection of Marcona almonds and other Spanish foods.