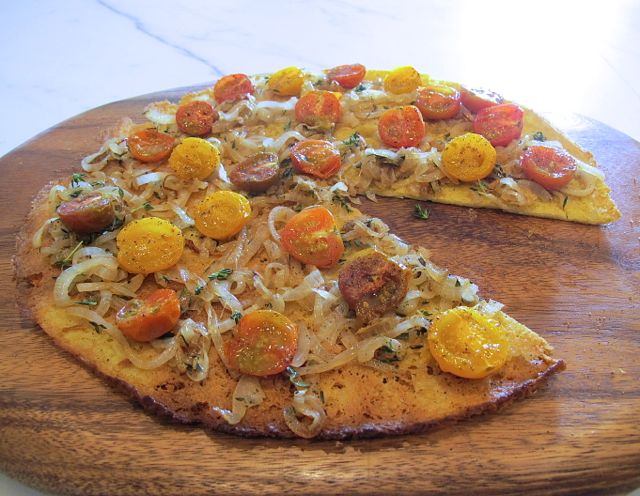 Last week for Julia's "adult" fourth birthday party (a cocktail affair for her friends of legal age), I made flatbreads to go with our drinks.  With both ovens going, I turned out flatbreads with various seasonal toppings throughout the event.  It was a lot of work to keep up with the the (surprisingly hungry) crowd, but it also allowed for some fun experiments, and some of the combinations of toppings were real keepers.
Most of the flatbreads I served that evening were based on white or whole wheat bread doughs, but this one was different.  Its base is a traditional French "socca" or chickpea flour crepe.  Traditionally served with nothing but a little ground pepper on top, these crepes have a wonderfully rich, nutty flavor all by themselves.  (All summer I've been serving them plain as a cocktail snack or with a green salad for lunch.)  Unlike traditional crepes, though, these are very easy to make without practice or any special pan: you just pour the batter into a large, hot skillet and bake it in the oven for about 20 minutes.
And, for those with restricted diets, they're gluten and dairy-free.
Recipe
(Socca recipe adapted from Salad as a Meal by Patricia Wells.)
Ingredients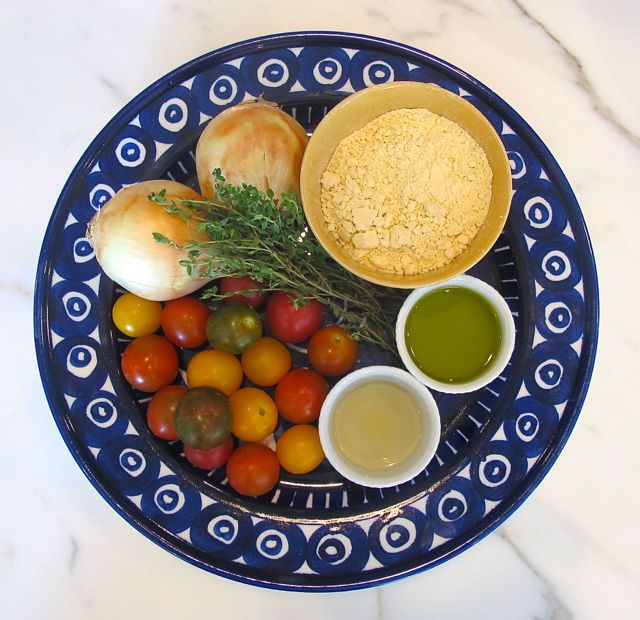 For the Socca:
1 cup (240ml) chickpea (garbanzo bean) flour
1 1/3 cups (315ml) water
4 tablespoons olive oil
1 teaspoon kosher salt
Fresh ground pepper
For the topping:
About 1 pint cherry or grape tomatoes
2 small or 1 large yellow onion
About 2 tablespoons of fresh thyme leaves
About 2 tablespoons olive oil
1/2 teaspoon white wine vinegar
salt and fresh ground pepper
Instructions
1.  Preheat the oven to 450F (230C).
2.  Halve the cherry tomatoes and place them, cut side up, in a baking pan or baking sheet.  Season with salt and pepper and drizzle with about 1 tablespoon of olive oil.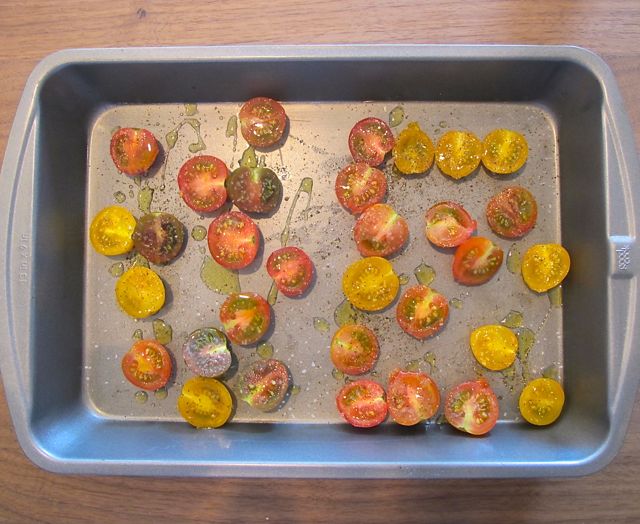 3.  Place them in the heating oven and roast until they're heated through and partially cooked.  At 450F (230C) this will take just a few minutes — watch them closely.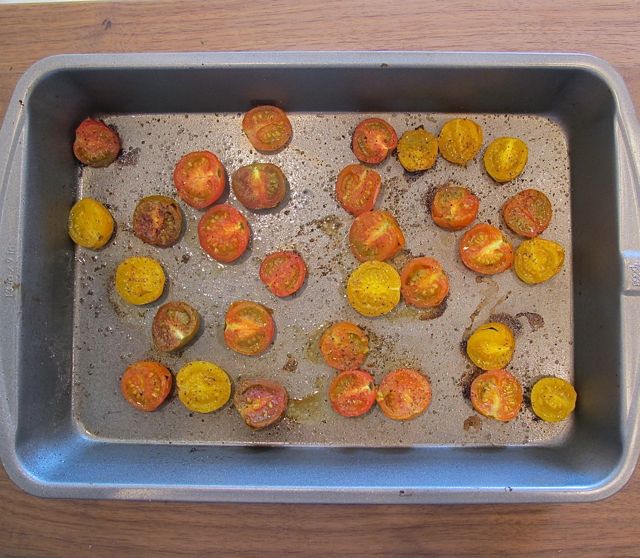 4.  Slice the onions into thin half-rounds.  Heat about 1 tablespoon of the oil over medium-high heat for about a minute and then add the onions and thyme. Cook, stirring frequently, until the onions are golden, but not browned, about 6-8 minutes.  Stir in the vinegar and season to taste with a generous pinch or two of salt.  Set aside.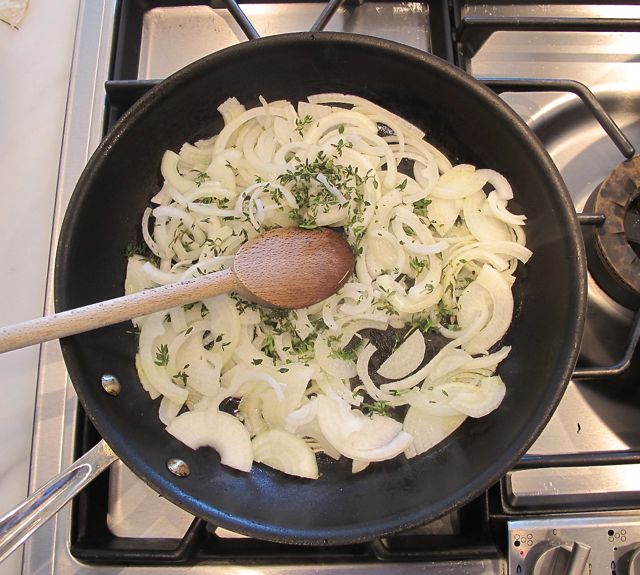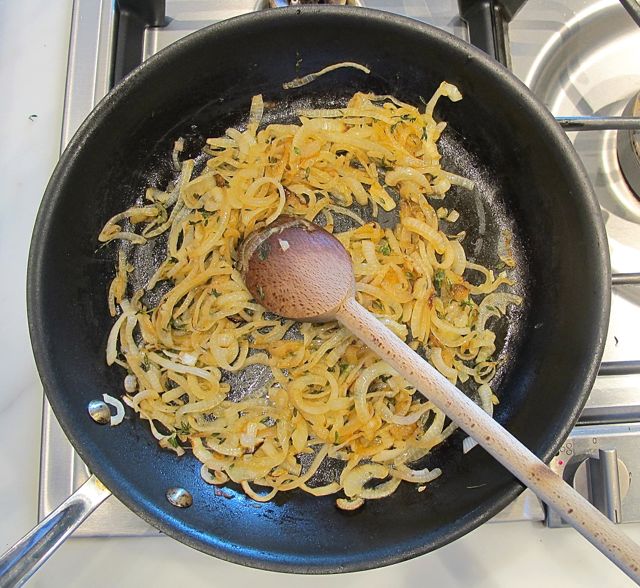 5.  While the onions are cooking, mix up the batter for the socca.  In a mixing bowl, whisk together the flour, water, 2 tablespoons of the oil and salt until smooth. The batter will be very thin.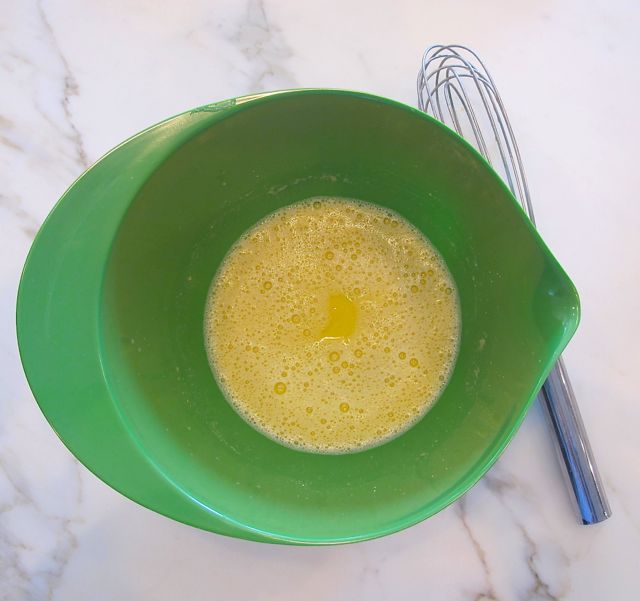 6.  Pour the remaining 2 tablespoons of oil into a large skillet or sautee or paella pan — about 14 inches (36cm) in diameter is ideal.  (If don't have a pan this large, no worries –just use the largest skillet you have.)  Spread the oil over the bottom of the pan with a spatula to coat evenly.  Heat the oiled pan in the oven for 5 minutes before proceeding.  Time this: skipping or rushing this step is about the only way to go wrong with this recipe.
7.  Pull the hot pan out of the oven and pour in the batter.  (If you don't have a 14-inch pan, just pour in enough batter to cover the bottom to a depth of about 1/8 inch (3mm).)  Tilt and swirl the pan to evenly coat the bottom, and return it to the oven.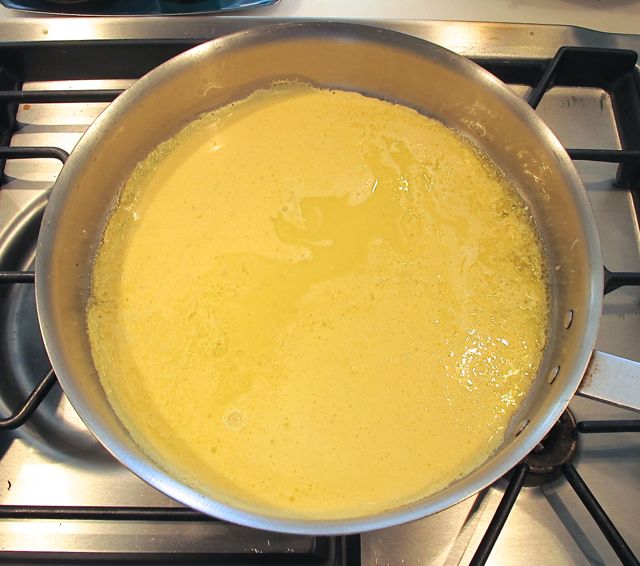 8.  Bake for 18-20 minutes, until the socca is dry and firm in the middle and deep brown at the edges.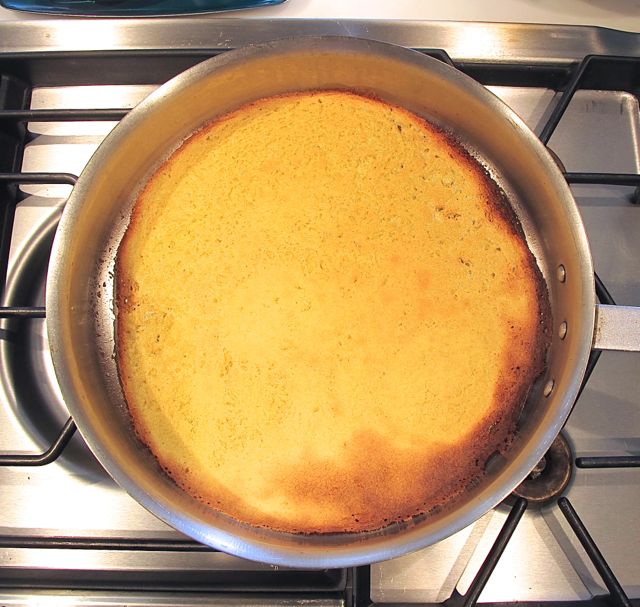 9.  Using a large spatula, gently remove the crepe from the pan (it should lift out easily), and place it on a cutting board or serving platter.  Season generously with fresh ground pepper.  You could stop here and tear it to pieces or cut it into wedges and serve it as a snack or with a green salad as light lunch.  When tomatoes are in season, though, this topping takes the dish to another level.
10.  Strew the onions over the crepe sparingly and then place the tomato halves on top.  Slice into wedges and serve warm or at room temperature while you make a second one for yourself.