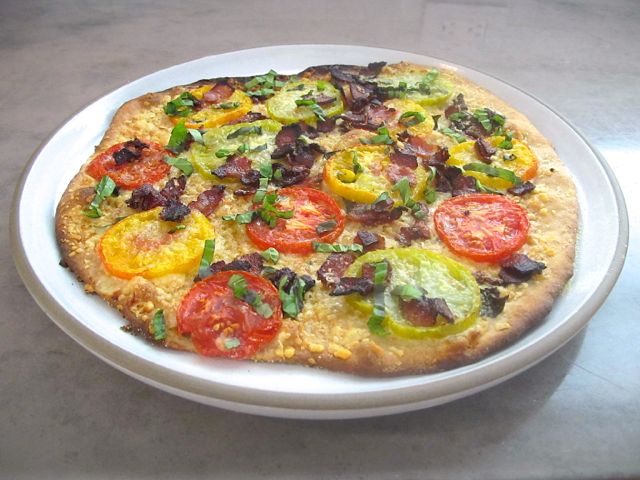 This is another of the flatbreads that I made for Julia's "adult" fourth birthday celebration.  It's also become the current family favorite weekend lunch.  Julia, of course, knows how to flatter her father into action, "Papa, you make the best pizza in the world!"
It really isn't pizza, though.  Its whole wheat base is nice and crisp and has a delicious almost nutty flavor, but it really isn't much like a traditional pizza crust, the sublime flavor and texture of which, I think, require a dry white dough that's allowed to ferment over a relatively long time –and some practice to handle well. This dough, on the other hand, is wet, yeasty, forgiving and fast.  By the time the oven is heated, an absolute beginner can have it rolled out and ready to bake.
It's more substantial flavor is also a great base for the big flavors on top:  rich, mellow cheddar cheese, fresh tomatoes, bacon and basil.  And if you have diners who aren't into the meat candy (poor things), black oil-cured olives are a nice substitute.  The only trick here is to use a light hand with the toppings. More than 3 ounces (85g) of cheese or too many tomato slices will make it soggy.  Don't completely cover the dough with the goodies:  you'll need to see some bare crust between the morsels of cheese, bacon and tomato if you want to have a crispy, brightly flavored treat.
And if you don't have a pizza stone, a heavy baking sheet turned upside down will work nicely — just watch it closely after about 5 minutes in the oven.
Recipe
(serves two)
For the whole wheat crust:
(adapted from Quick Whole Wheat Bread Tart Dough in Salad as a Meal by Patricia Wells.)
3/4 cup (180ml) whole wheat flour
3/4 cup (180ml) unbleached all-purpose flour, plus more if needed and for dusting
1 packet (2 1/4 teaspoons) instant yeast
3/4 teaspoon table salt or fine sea salt
1/4 teaspoon sugar
2/3 cup (160ml) lukewarm tap water
2 teaspoons olive oil
For the topping:
2-3 fresh, ripe tomatoes, depending on size
Scant 3oz (85g) of a rich, mellow cheddar cheese such as a French Cantal or an American Cabot cloth-bound cheddar, coarsely grated.
About 1/4 pound (115g) of thick-cut or slab bacon
A small bunch of fresh basil leaves
Finely grated parmesan or grana cheese to dust the top
cornmeal for dusing
Instructions
For the crust:
1.  Combine the dry ingredients in the bowl of a food processor fitted with the blade attachment.  Pulse to combine.
2.  Add the oil to the warm water and then, with the motor running, gradually pour the liquid into the food processor until the mixture forms a sticky ball.  (This should just take a few seconds.)  If the mixture is too dry and won't come together, add 1 to 2 more tablespoons of water.  If it's extremely wet and sticky, add 1 to 2 tablespoons of flour.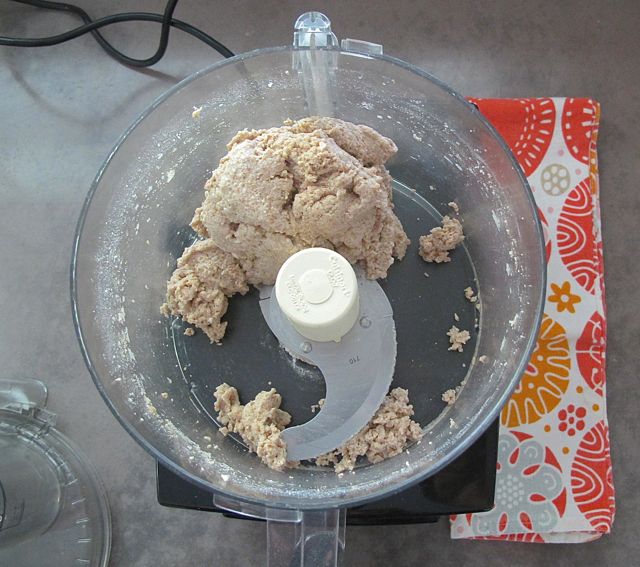 3.  Transfer the dough to a clean floured surface and kneed for about a minute.  Form into a ball.
4.  Cover with a cloth and let rise for at least 10 minutes before rolling out.  (Or keep it in the fridge for up to 4 days, punching down as necessary.)
5.  Divide in half and roll out on a lightly floured surface to a diameter of about 10 inches (25cm).  The crust will be thin –about 1/4 inch (5mm)– but it handles easily.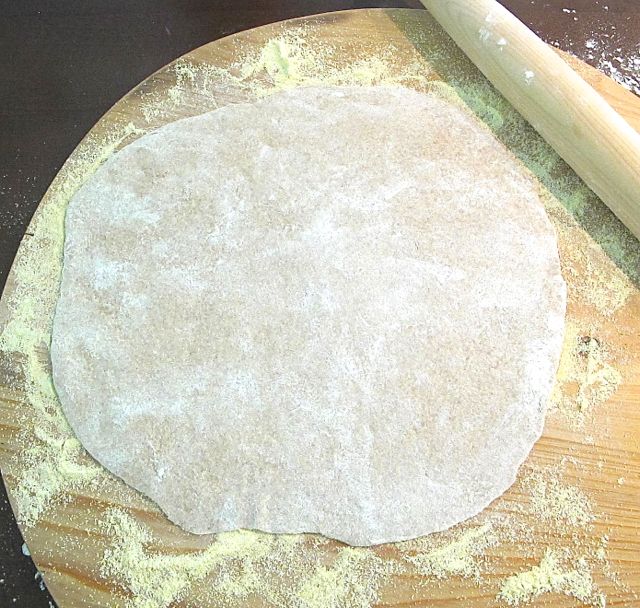 6.  Transfer to a pizza peel or cutting board generously dusted with cornmeal before proceeding.
For the topping:
1.  Place a pizza stone on the middle or bottom rack of the oven and preheat to 500F (260C).  (If you're not making the dough in advance, you will want to do this before you mix it up.)
2.  Core and slice the tomatoes about 1/4 inch (5mm) thick and lay them on a dish towel or paper towel to drain while you prep the other ingredients.  Sprinkle lightly with kosher or coarse sea salt.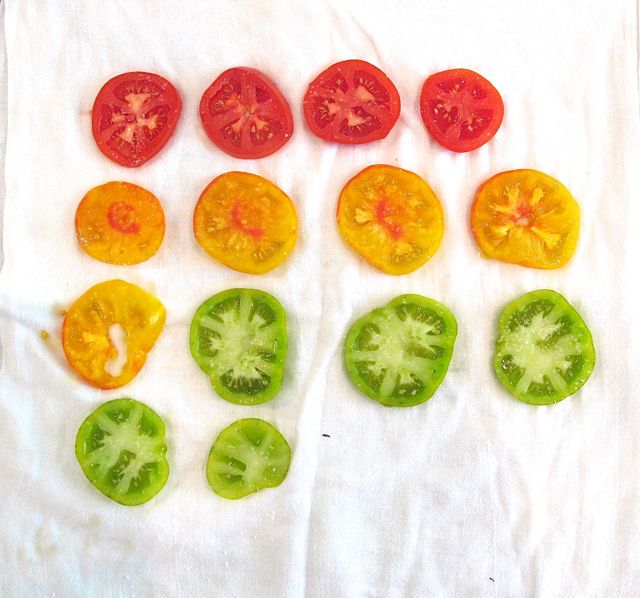 3.  Slice cut bacon crosswise into strips or cut slab bacon into about 1/4-inch (5mm) cubes.  Sautee over medium heat until it renders most of its fat and just begins to brown.  Remove with a slotted spoon and drain on a paper towel.  Set aside.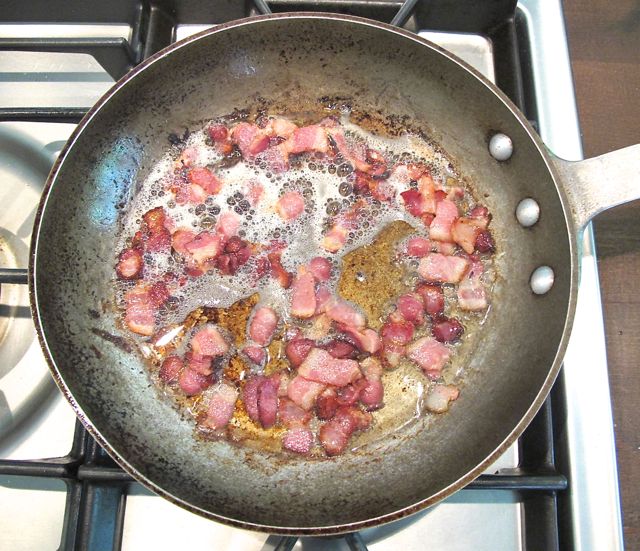 4.  Before topping the rolled-out crust, give the peel a good shake to make sure the dough slides freely over it.  If it doesn't, loosen it with a metal spatula and shake again.  If it still sticks, add more cornmeal underneath.  Working quickly, spread the cheddar cheese evenly over the rolled-out dough and top with the tomato slices, tucking a basil leaf under each one.  Evenly distribute the bacon pieces over the top and then sprinkle the grated parmesan or grana over all.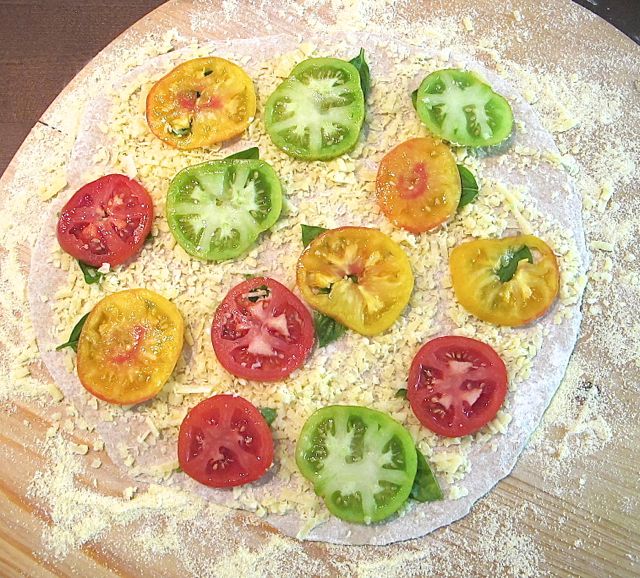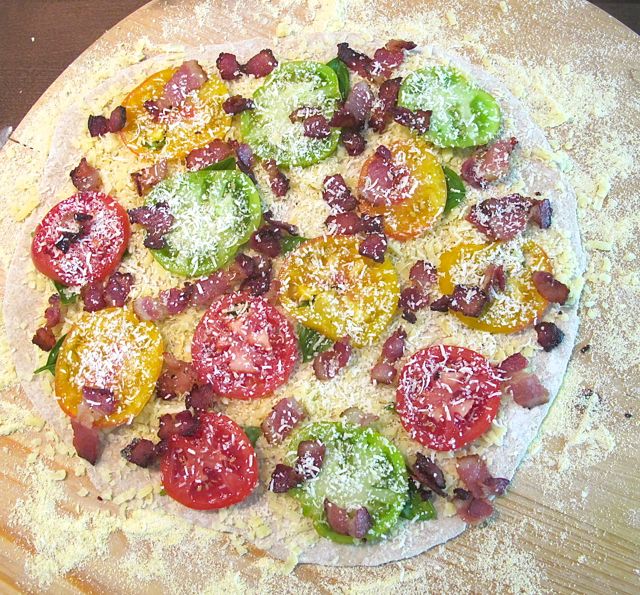 5.  Slide the flatbread from the peel onto the pizza stone by placing the leading edge of the peel at the back edge of the stone, tilting the peel up from at the handle and then drawing it back toward you.  If the dough sticks a little, ease it off with a metal spatula.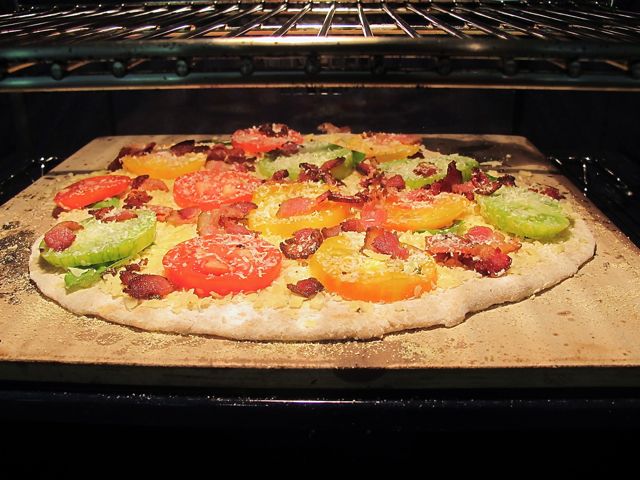 6.  Bake for 8-10 minutes until the crust is crispy and brown at the edges and the cheese is bubbling.  Top with a sprinkling of chopped basil leaves and a few grinds of black pepper.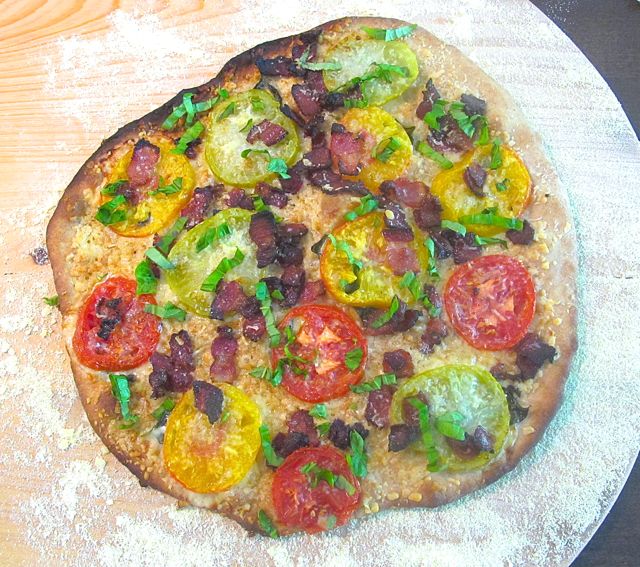 Slice into wedges, take one for yourself and serve the rest immediately.