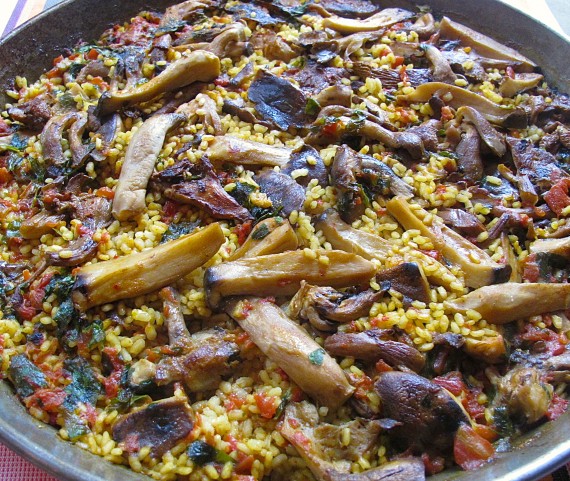 After all the roast birds and beasts of the Holiday season, I think it's nice to slip a few more vegetarian dishes into our menus in the New Year.  Although a bit lighter than my other "everyday" paellas (chorizo and olive and marinated chicken), this one feels far from austere.  The warm, earthy flavor and meaty texture of the mushrooms make it a delicious and satisfying dish.  The "everyday" nature of this dish lies in the simplicity of the recipe and the speed of its preparation:  it comes together from a cold start in about an hour, making it a good choice for a weeknight.  It's definitely nice enough for guests, though, as the wild mushrooms arranged on top make for an impressive presentation. Either way, just toss up a simple green salad, open a bottle of a big red wine, and you've got a delicious meal.
The recipe generously serves six and comfortably eight.  For a smaller meal, halve the recipe and cook it in a 10 to 12-inch (25-30cm) skillet.  And if you don't have a 16 to 18-inch (40-45cm) paella pan, don't try to make a whole recipe in something smaller. The dish will be too deep, and the rice won't cook properly. You can cook the recipe in two 10 to 12-inch skillets, though.  Just before you add the rice, divide it and continue.
Recipe
(Adapted Paella de Setas in La Paella by Jeff Koehler, serves 6-8)
Ingredients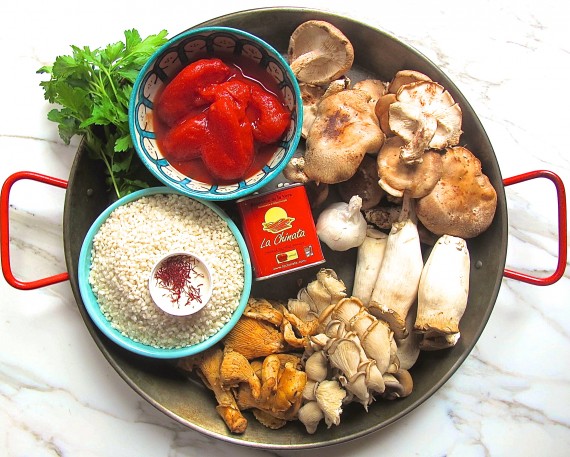 About 1 1/2 pounds (700g) mixed fresh wild mushrooms cleaned and cut into nice big bite-sized pieces. (I used shiitaki, chanterelle, royal trumpet and oyster mushrooms, but choose three or four of your favorite varieties.  And good old white or brown button mushrooms are delicious in the mix too.)
7 tablespoons olive oil
4 ripe medium tomatoes (or about 6 canned tomatoes), peeled, seeded and finely chopped
3 cloves garlic
1 teaspoon sweet smoked Spanish paprika
2 pinches saffron threads (about 20 total), lightly toasted and crushed
7 cups (1.6 l) vegetable or chicken stock
3 cups (700ml) short-grain rice (such as Spanish Calasparra or Italina Arborio)
2 tablespoons roughy chopped flat-leaf parsley
Instructions
1.  In a 16-18 (40-45cm) inch paella pan heat 4 tablespoons of the oil over medium-low heat for about a minute.  Add the tomatoes and two pinches of salt and cook, stirring occasionally, until the tomatoes are pasty and a darker shade of red, about 10-15 minutes (a bit less if you're using canned tomatoes).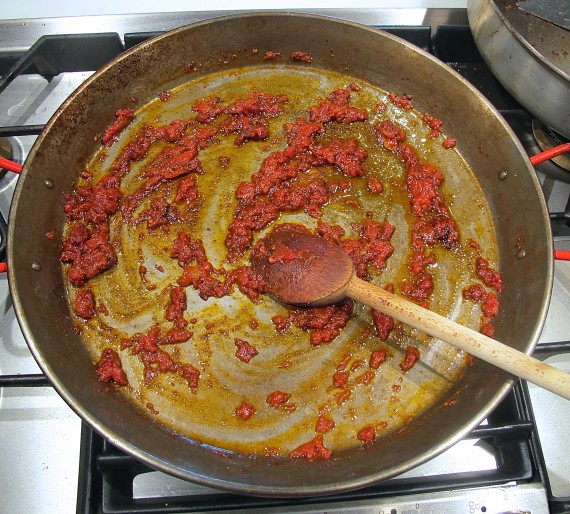 2.  Meanwhile, prepare the mushrooms.  Heat the remaining 3 tablespoons of oil in the largest skillet or sauté pan you've got over medium-low heat.  Add the mushrooms and the garlic and cook until the mushrooms release their liquid, about 7 minutes.  Drain off the liquid and reserve.  (There won't be a lot, but it's loaded with flavor, so take the trouble to do this.)  Then raise the temperature to high and saute the mushrooms until they're tender and begin to brown, about 5 minutes more.  Remove to a plate.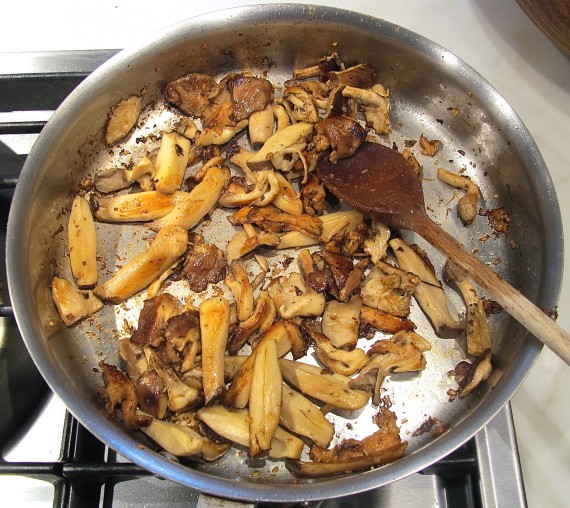 3.  When the tomatoes are done, add the paprika and saffron and give the pan a few good stirs.  Then add the stock, the reserved mushroom liquid and the parsley, and bring the heat to high and bring to the boil.  Taste for salt and adjust.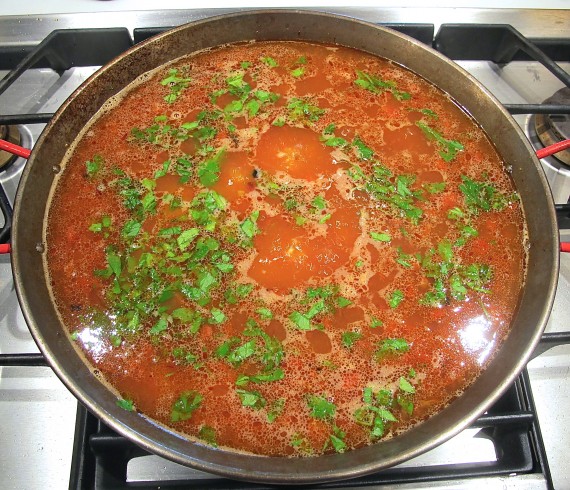 4.  Then add the rice.  Sprinkle it over the pan as evenly as you can and then gently push it around with a wooden spoon to evenly cover the bottom, but don't stir it. Strew the mushrooms evenly around the pan.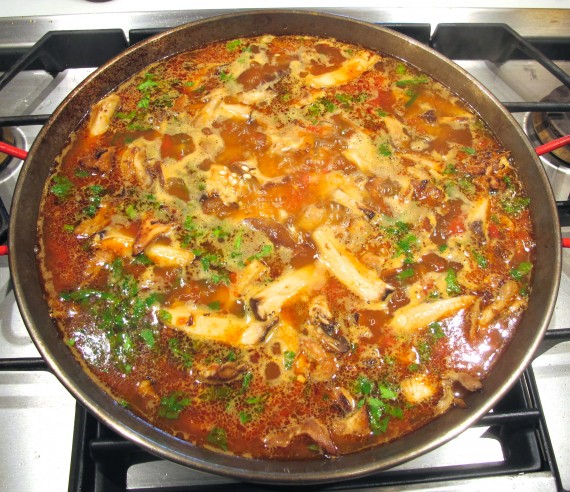 5.  Cook uncovered over high heat for 10 minutes.  Then reduce the heat to low and cook for 8 minutes more.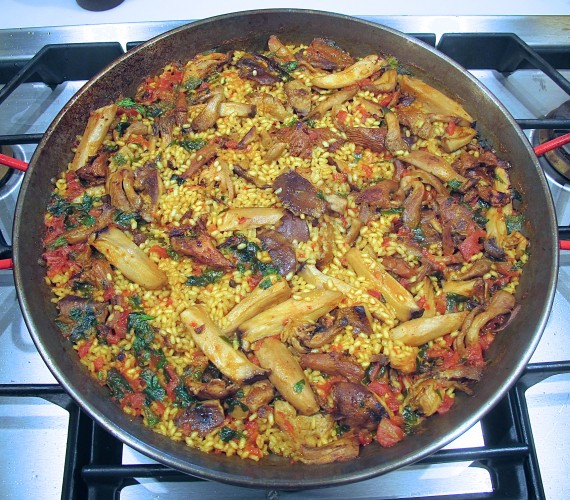 Remove from heat, cover the paella with paper towels or a dish towel and let it rest for about 5 minutes before serving.