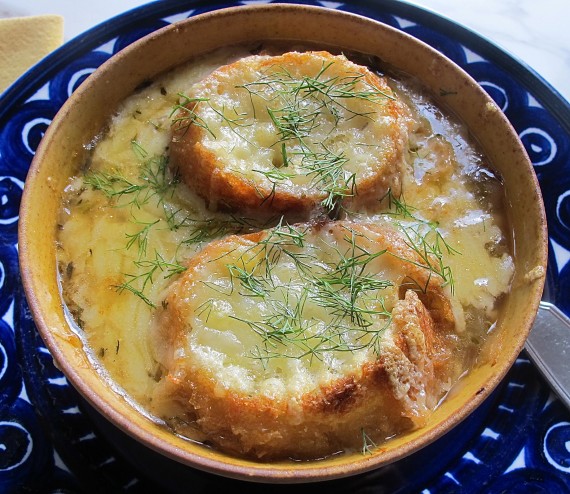 Has anyone ever been disappointed to get a bowl of French onion soup –topped with crusty bread and bubbling melted cheese?  I never have.  Soup is good food –warming, comforting, virtuous– but it's rarely something I get excited about eating.  For me, though, a good French onion soup is a special event.
Here's a nice variation on the classic.  It replaces the traditional hearty meat stock with chicken, and the distinctive flavor and gentle sweetness of fennel adds a refreshing twist.  Overall it's lighter than the beefy original, making it a more versatile first course for dinner as well as a delicious lunch.
Don't be alarmed by the four –yes, four– alcoholic beverages on the ingredients list.  It's a soup not a cocktail, so they're all used in small quantities and help to build up a rich, nuanced flavor.  If you had to omit one, it would probably be the sherry or vermouth: you could replace it with white wine, and the dish wouldn't suffer too much.  Don't leave out the Pastis, though.  Without it the soup tastes a little dull and unfinished.
Recipe
(adapted from Fennel Soup Gratin in Parties! by Ina Garten, serves 4)
Ingredients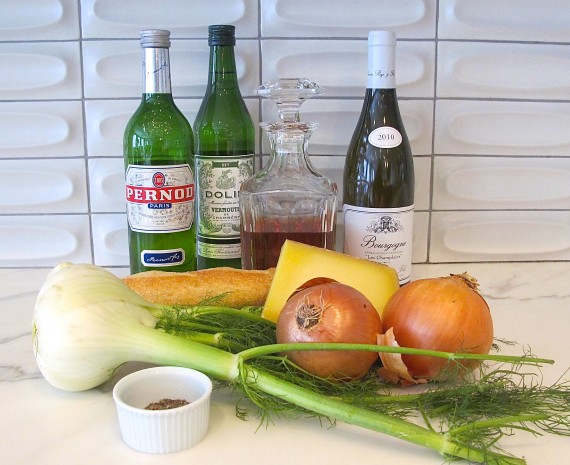 2 tablespoons unsalted butter
1 large fennel bulb
2 large yellow onions
1 teaspoon minced fresh thyme leaves (or a scant 1/2 teaspoon of dried thyme rubbed between your palms)
About 2 tablespoons cognac or similar brandy
1/4 cup (60ml) medium-dry sherry or dry vermouth
1/4 cup (60ml) white wine (that you would drink –as always)
4 cups (1l) good chicken stock (preferably low salt)
About 1 1/2 teaspoons kosher salt (but taste before you commit)
About 1/2 teaspoon freshly ground black pepper
About 2 tablespoons Pernod
8 slices of French baguette (may be day-old)
A scant 1/2 pound (200g) Comte or Gruyere cheese, grated
Instructions
1.  Remove and discard the stalks and any damaged outer leaves from the fennel bulb, but save a handful of the bright green fronds for garnish.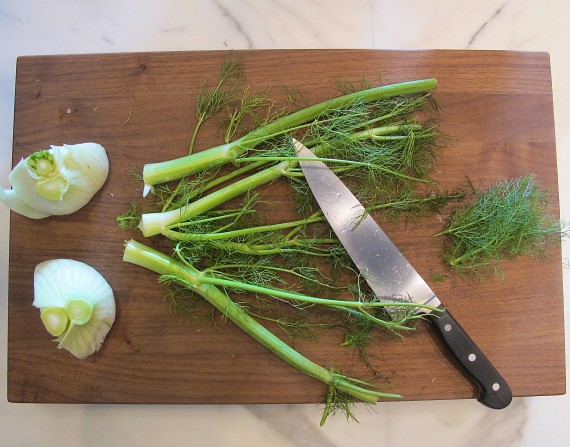 2.  Using a food processor (easiest), mandoline (easier) or sharp knife (depends on your knife skills), thinly slice the onions and the fennel bulb.  (Don't sweat this –they don't need to be paper thin.)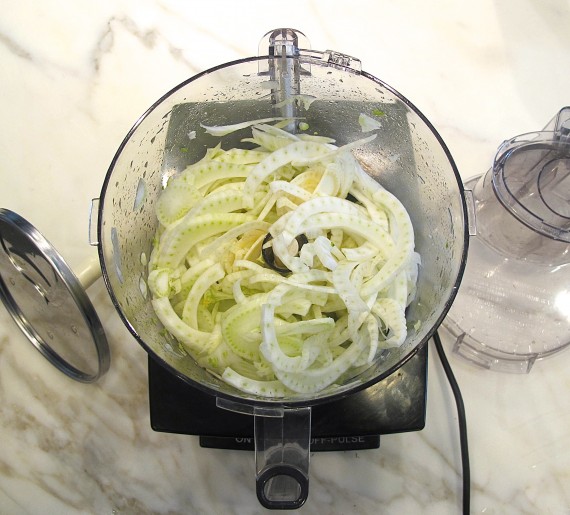 3.  Melt the butter in a heavy pot over medium-high heat.  Add the onions, fennel and thyme and sauté  until the vegetables are tender and caramelized, about 20-25 minutes.  (Add a little water if they start to stick to the pot before they're done.)
4.   Deglaze the pan by adding the brandy.  Reduce the heat to medium and cook for about 3 minutes, scraping all the delicious brown bits off the bottom of the pot.
5.  Add the vermouth or sherry and the wine and simmer, uncovered, for about 10 minutes.  Add the chicken stock.  When the soup is warm, taste and season with the salt and pepper — the amount of salt, if any, in your stock will of course affect how much you use.  Simmer for another 15 minutes or so.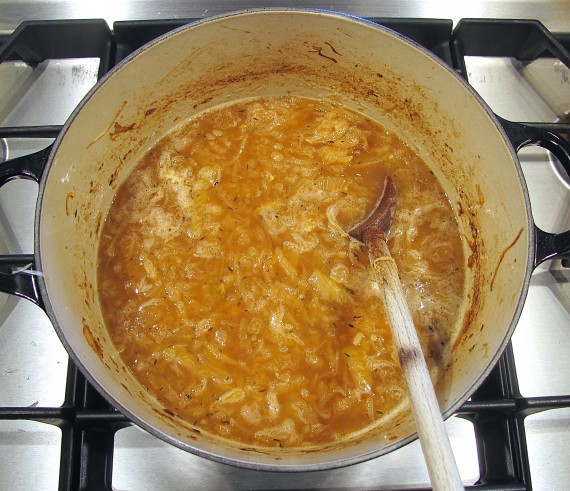 6.  When you're ready to serve the soup, preheat the broiler, add the Pernod and cook for 5 more minutes.  Taste and adjust the seasonings.
7.  Ladle the soup into 4 ovenproof bowls and place 2 slices of baguette and a scant handful of Comte or Gruyere on each.  (Don't completely blanket the surface with cheese — you want to leave some edges of the bread exposed so they toast under the broiler, and it's nice if some of the soup to bubbles up through the cheese.)  Place the bowls under the broiler for 3 minutes or so, or until the cheese is bubbly and starting to brown.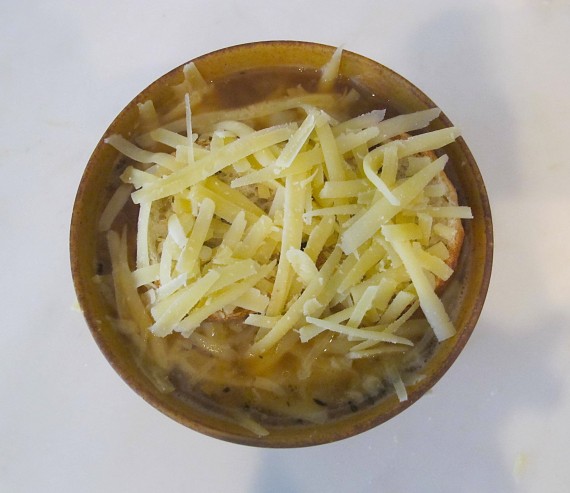 Garnish with a few of the chopped fennel fronds and serve immediately to your smiling guests.