One of the great consolations of winter –from people who know a lot about winter– is Swiss cheese fondue.  It's so simple –really just good cheese melted into wine– and yet it's one of the most outrageously delicious and completely satisfying things I've ever eaten. And it's a festive dish: the fragrance from the communal pot calls people to the room and casts a warming spell over the table as people dip chunks of bread and vegetables into the deeply flavored, silky sauce.
Traditionally, Swiss cheese fondue is served mostly with lots of bread and forms the main course of a hearty meal.  This is wonderful –particularly if you've spent the day on skis– but it can be a little heavy for some people, which may be a reason that the dish seems to have declined in popularity in the U.S. since its mid-century heyday.  (It was a favorite dish of my 1970s childhood).  Recently, I've adapted the dish in a couple of ways.
As a main course, I serve it with plenty of vegetables as well as bread.  Roasted green or white cauliflower and Brussels sprouts taste great with the cheese, as do small boiled potatoes and cherry tomatoes.  This makes for a lighter and more balanced meal –and increases the chances of your guests remaining awake for dessert.  (And, by the way, tarte tatin, is a delicious way to finish a fondue dinner.)
I also like serving a pot of fondue with cocktails.  A few bites are a warm, delicious way to start an evening without necessarily committing to an Alpine feast.
No matter how you serve it, though, you must observe one traditional rule:  whoever loses a chunk of bread (or cauliflower or whatever) in the pot, must kiss the cook!
Recipe
(serves four as a main course and eight to ten as an appetizer)
Ingredients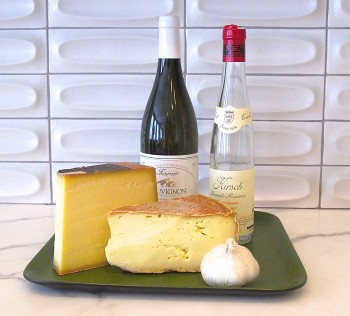 1.5 pounds of cheese.  I use about 60% Gruyere and about 40% Vacherin Fribourgeois (when I can get it) or Emmenthal
1.5 – 2 cups of good dry white wine
1 tablespoon of cornstarch
1 clove of garlic, minced
a splash of kirsch (cherry brandy), optional
Serve with a loaf of crusty white bread and boiled potatoes, roasted or boiled cauliflower or brussles sprouts, cornichons and other vegetables.
Special Equipment
A fondue pot, with either an alcohol or Sterno burner.  These are available at good kitchen supply stores, but there are also some great vintage finds on ebay.
Instructions
1.  The fondue itself comes together in just a few minutes, so start by preparing your dippables.  I like to roast florets of a green variety of cauliflower called Romanesco with just a little olive oil and salt in a 375F oven for about 15 minutes and boil red new potatoes until they're tender.  (If you can't find Romanesco, roasted white cauliflower is delicious here too, as are Brussels sprouts.)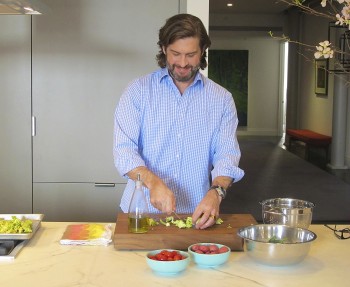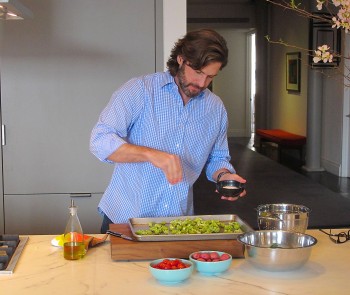 2.  While that's underway, I coarsely grate the cheese.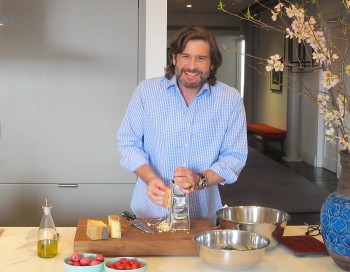 3.  And toss in the tablespoon of cornstarch.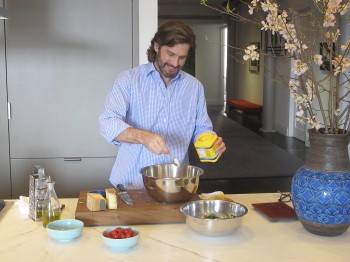 4.  Then it's time to open the wine, measure 1 1/2 cups into the fondue pot and add the minced garlic.  And pour a glass for yourself and anyone else in the kitchen.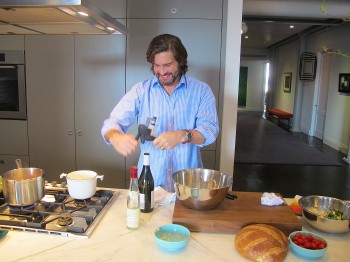 5.  Bring the wine to a simmer over medium-high heat and add the cheese one handful at a time, stirring constantly and allowing each handful to dissolve before adding the next.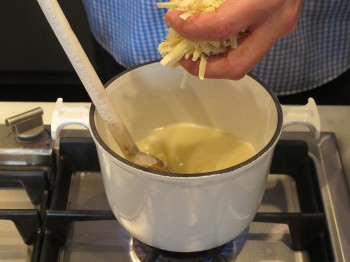 6.  Reasonable people differ on the desired thickness of fondue.  I like mine just thick enough to lightly coat a piece of bread but not to swamp it with cheese. If, after you've mixed in all of your cheese, the fondue seems too thick, just add a little more wine, up to 1/2 cup.
7.  Just before you're ready to serve, stir in a splash (1-2 teaspoons) of kirsch.  This finishing touch is optional, but I think the fruity note of the brandy nicely complements the slight funkiness of the cheese.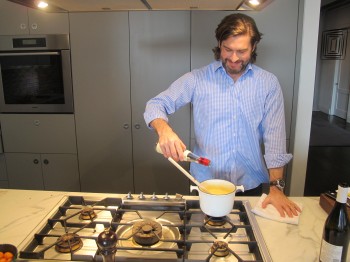 8.  Then it's time to slice the bread, light the burner
and serve your fragrant, bubbling pot of cheese fondue to your impressed and grateful guests.