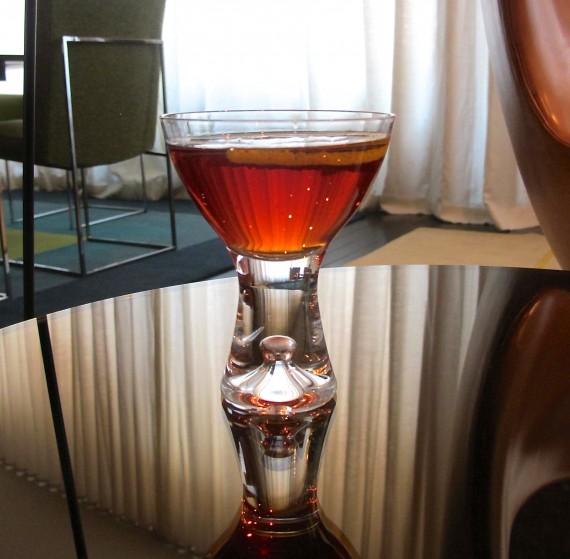 The cold rain outside my window here in New York reminds me that it's still brown liquor season.  Not that there's anything wrong with whiskey in summer (or white jeans in winter), but there's something really nice about a warming brown drink on a cold wet night.
This is one of my new favorites.  It beautifully balances bitter, sweet and spicy flavors in a drink with a beautiful ruddy brown color and an herbal aroma.  It also features a couple of spirits that probably aren't on your bar right now, but are new favorites of mine that I think you'd enjoy keeping on hand.
The featured flavor is that of Agricolas Tremontis Mirto, a unique Sardenian liqueur made from myrtle berries.  It has a deep violet red color, herbal aromas and a bittersweet flavor with notes of eucalyptus, juniper, and allspice.  It's delicious mixed into cocktails but also simply served over a ice at the end of a meal.
In an important supporting role is Pierre Ferrand Dry Curacao, an orange liqueur that's drier and more complex than Cointreau or Grand Marnier.  Try substituting it for any other triple-sec, or brighten up your Manhattan with a few drops if you're in the mood for something new.
Recipe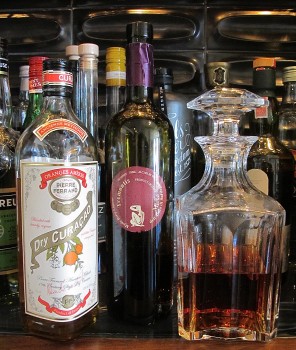 2 oz bourbon
1 oz Tremontis Mirto
1 oz Pierre Ferrand Dry Curacao
Strip of orange peel (orange skin only –no white pith) to garnish
Combine the spirits in a pitcher or mixing glass full of ice and stir well.  Strain into a coupe and wipe the rim of the glass with the orange peel before dropping it in the glass to garnish.
Cheers!